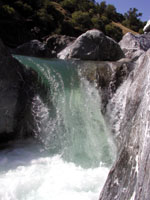 D's COFFEE & TEA SHOP
and INTERNET CAFE
21187 Calistoga Street,
Middletown, CA. 95461
(707) 987-3647
Cash, MC & Visa
Open Monday - Friday 6am - 7pm, Sat & Sun 8am - 5pm
WE NOW HOST A CONCERT with LIVE MUSIC
and OPEN MIC On the 4th Fridays of each month
Here is the Schedule:
7:00 PM - Kids Open Mic
7:30PM – 8:30PM - Concert: With Guest Performance
8:30PM – 10:PM - General Open Mic
Three of your favorites await at D's Coffee & Tea Shop and Internet Cafe. Proprietress Donna serves the earliest in the morning cup of coffee or tea in Middletown (6am daily). The latest in Wireless technology is available for those who bring their laptop computer. Known for the friendliest service in town, D's serves coffee from Sunshine Roasters, their exclusive coffee roaster. The organic tea is devine. Donna serves 24 specialty loose teas ranging from Black Coconut to Ginger Lime Rooibos and Chocolate Pu-erh
Visitors can buy an array of delicious pastries, chocolate dipped macaroons, cookies and tea breads. Odwalla fruit juices, bottled mineral waters and a delicious menu of mochas, lattes and iced coffee and tea drinks wet the whistle. D's serves coffee and tea with a conscience!! You'll also find organic treats and munchies such as breakfast burritos.
There is a showcase with locally made jewelry and Fair Trade African and South American ear rings, bracelets and necklaces. The colorful upscale interior is warm and conducive to good conversation with other community members. The lounge chairs are comfortable to sit in while you are working the WiFi and sipping your tea or coffee.
$-$$ D's Coffee and Tea Shop.
There are also concerts and open mike sessions on the front patio of this old converted service station.
Organic Coffee, Tea, Pastries and Light Meals
Open 6:00am - 7pm daily, Weekends till 5pm
21187 Calistoga Street, Middletown, CA. 95461
(707) 987-3647