A solid eating establishment located in Middletown is The Little Cowpoke Cafe. Here all walks of life can dine on traditional All-American comfort food. The term cowpoke has many definitions. Usually it is defined as "a traditional hired man or "cowpoke" who rides a horse and tends the cattle". However the definition the folks at the Little Cowpoke Cafe prefer is "a hometown cafe with great food and friendly staff".
We have a large selection of vegetarian entrees - the local health crowd like the salads and we make homemade soups daily including chicken noodle, Navy bean with ham hocks, split pea barley and Friday is clam chowder. Our staff occassionally make homemade apple pie and chocolate cake and if they are in the mood delicious blueberry bread pudding. (Hum - whos in charge here?)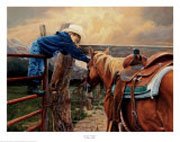 We also serve chocolate, strawberry and vanilla milk shakes and our fries are cut fresh daily from real potatoes. Some of the vegetables come right out of our ranch organic garden in the summertime.
There is a classy outside patio that is sheltered and private (seating for 40) and we do banquets for 50 inside and 40 outside. The next time you are in Middletown please stop by and say hi.
$-$$ THE LITTLE COWPOKE CAFE
Traditional All-American Comfort Food
Open 6:00am - 2pm daily
21118 Calistoga Street, Middletown, CA. 95461
(707) 987-0661
WHILE YOU ARE WAITING TO ORDER
PLEASE ENJOY THESE CLASSIC SONGS and MOVIE TRAILERS
TURN OFF YOUR LIGHTS TONITE - HAVE a COWBOY "BIG SKY" NIGHT