| | |
| --- | --- |
| Palace Market Wine Shop | Palace Market Delicatessan & Bakery |
PALACE MARKET
State Highway 1 Downtown Point Reyes
Point Reyes Station, CA. 94956
(415) 663-1016
Open Monday - Saturday From 7am - 8pm
Open Till 7pm Sundays
Originally the Emporium (established 1893), the Palace Market, located in downtown Point Reyes Station, has served the simple to sophisticated culinary needs of West Marin residents and visitors for almost a century. Today this little solar system of traditional, ethnic, health and gourmet foods is open daily from 8am to 8pm and till 7pm on Sunday.
Of special note is the fabulous deli department where Gloria Padilla creates fabulous salads, hot paninis, delicious homemade soups and other delights. General manager Terry Thompson has fine tuned the market by listening to the requests of locals and visitors.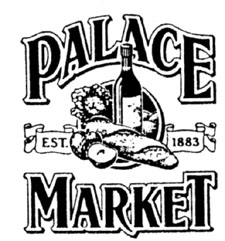 The Palace smokes their own fish and sells Marin Sun range fed beef and free range hormone free chicken, organic produce and the fresh daily catch sometimes comes from local fishermen. Fresh brewed coffee, deli sandwiches and dozens of beverages from spirulina smoothies to fresh squeezed orange juice is available. There is a large selection of micro-brewed beers, liquor and local Marin and Napa premium wines; some made from organically grown grapes. Block ice as well as DVD movies are sold. On summer weekends delicious BBQÍd oysters, chicken, ribs, burgers and hot dogs are festively grilled outdoors.
An exceptional grocery store is the heartbeat of any community, the garden of fresh & packaged foods, where people of different walks gather around to enrich their life is often a welcome break in the day and something to look forward to. The energy saving greenhouse roof lets the sunshine rain in on busy shoppers. The Palace is where new friends are made and old friends keep in touch.
$-$$ PALACE MARKET
Full Service Grocery Store, Deli, Wine Shop and Bakery
State Hwy 1 Downtown Point Reyes Station, CA. 94956
Major Credit Cards (415) 663-1016