ALBION GENERAL STORE, DELI, WINE SHOP, GAS STATION and PROPANE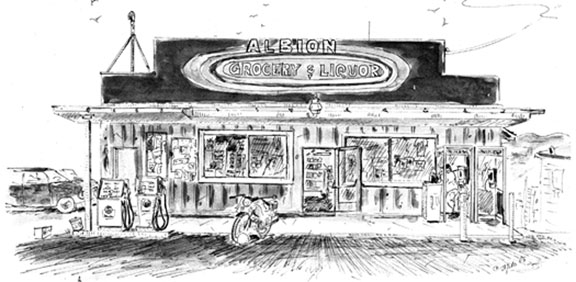 Delicious Snacks to go, Picnic Supplies,
Gourmet Sandwiches, Organic Espresso & Mochas,
Beer, Wine, Gasoline, Pay Phone and much more!
Box 280, Base of Albion Ridge,
Albion, CA. 95410
Cash, Albion Checks, Credit Cards
Open Daily 7am - 7pm
Sunday 7am - 6pm
(707) 937-5784
The Albion Grocery is a great supply center for explorers of the Mendocino Coast and a lifeline for residents who live in remote settings up the Albion Ridge. This spacious grocery store fulfills the needs of campers and fishermen and desires of discriminating shoppers with sophisticated tastes. Fresh fish and locally grown produce (in-season) are available as well as a large variety of health food and gourmet items. The wine selection represents Mendocino's finest wineries and there is also a selection of locally made and certified organic wine. Gasoline and motor oil is also sold. Next door is the Albion Post Office, and a hardware store and down in the harbor are campgrounds and RV parks, the Flat's Cafe, boat launching facilities, a laundromatt and excellent bird watching.
In the gourmet deli an assortment of homemade salads, sandwiches and International dishes with all the necessities for an afternoon picnic or vacation home or RV meal are showcased. Mochas or espressos made from organic beans are for the road. Camping and outdoor cooking equipment, bait and tackle, nautical gear and firewood are among the on-going list of supplies stocked for the great outdoors. The fishing report is updated daily for those wanting to know whats in season or running in the coastal waters. You will find proprietor Doug Hendricks and staff to be community involved and valuable sources of information.
$-$$ ALBION GROCERY Box 280, Base of Albion Ridge, Albion, CA.
General Store, Deli, & Gas Station Open daily 7am - 6pm (707) 937-5784
WEATHER & STARS
SURF REPORT, TIDES & TSUNAMI WARNING SYSTEM
GARDEN & PLANTING GUIDES