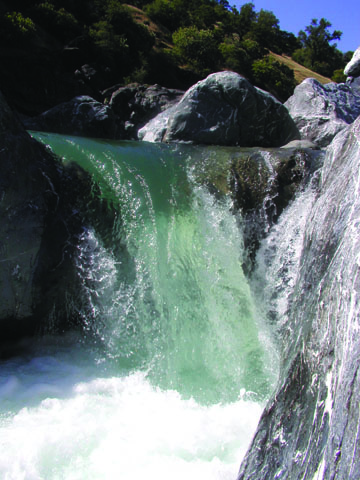 BLACK BUTTE
RIVER RANCH
Country Store, Cabins, Camping,
RV Park and Laundromatt
34985 Etsel Ridge Road,
Covelo, CA. 95428
(707) 983-9438
Open Year Around
Summers 9am - 8pm June - October
Winters 10am - 6pm November - May
Thirteen miles east of Covelo on Highway 162 is the tiny settlement of Black Butte which sets on a small plateau overlooking the conjunction of the Black Butte River and Middle Fork of the Eel River. The only service before thousands of acres of wilderness is the Black Butte country store, laundromat, RV campground and two rustic, but cute cabins. Cabin rates are $50 (one bed) and $55 (for two beds) with the handicapped equipped shower stall and bathroom about 40 steps from your front porch. Full RV hook-up is $25/night and car or tent camping $15 per night / 2.
Proprietress Margie Garcia & Tom Ochsner usually open year around and serves home baked BBQd chicken, burgers, ribs and delicatessen food as well as beer, wine & ammo to locals and co-ordinates group retreats for people who love vegetarian food, country scenery and night time stars. You can also camp at the Forest Services Eel River Campground across the street which offers picnic tables, fire pits, drinking water and outdoor toilets only. There is swimming and hiking along both rivers, but watch out for star thistle and rattle snakes. To get to one of several trail heads in the Yolla Bolly Wilderness you can drive 28 more miles northeast from Black Butte to Indian Dick where primitive campsites, outdoor toilets and a spring box for collecting drinking water awaits. Be sure to bring a water filter, colloidal silver (a great water purifier), fire starting kit, plenty of provisions and warm bedding for cool summer and fall evenings. Star watching here is like being in heaven.
Resident store dogs are Hannah (and depending upon the day) Buddy, Hobart and Jesse; so be aware in case you let your dogs out because "it's their store in their minds" and dog turf fights are a bummer. You and your loved ones are in the middle of no where if you know what I mean and its a long drive back to civilization on roads infested with rattlesnakes (on hot 100 degree plus days) and territorial marijuna growers driving big 4X4 trucks with big dogs hanging out the window.
$-$$$ BLACK BUTTE RIVER RANCH
Country Store, Cabins, Camping, RV Park and Laundromatt
34985 Etsel Ridge Road, Covelo, CA. 95428
Debit Cards and Major Credit cards honored
(707) 983-9438

ROUND VALLEY COVELO REGION