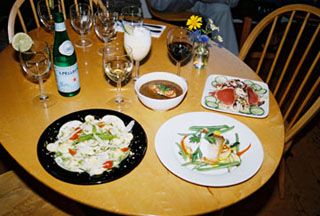 BLUE HERON INN
and MOOSSE CAFE'
Fresh Seafood and Continental Cuisine
Village and Oceanview Rooms
390 Kasten, Mendocino, CA. 95460
Wine Bar & Restaurant: (707) 937-4323
Seasonal Hours
Pictured to the right is Moosse Food! Wild salmon, summer squash carpaccio, Ahi salad, key lime mousse, white or red wine and sparkling water.
The Moosse Cafe' serves exceptional seasonal cuisine, highlighting the bounty of local food and wine products available in Mendocino. Lunch is served from 12:00 to 3:00pm, and dinner from 5:30pm to 9:00pm. Dinner selections include house-made pate, summer squash carpaccio and cioppino, in addition to daily sup, fish and pasta specials. Lunch selections include the best macaroni and cheese, and Moosse's Caesar salad, in addition to daily specials that make the most of seasonal and organic ingredients. Delicious desserts are all homemade. The Moosse offers a balanced and evolving wine list, including many wines by the glass to compliment the seasonal lunch and dinner menus. When the weather is right, outdoor seating on the deck with views of the garden yard and ocean, makes dining at the Moosse Cafe' a very memorable experience.
The Blue Heron Inn offers clean, cozy European-style accommodations at their best. Three upstairs rooms, one with a private bath, rent from $110 per night and include a continental breakfast. The rooms have beautiful ocean and village views, and make village access a breeze.
$$MOOSSE CAFE' & BLUE HERON INN
Cafe and Inn
390 Kasten, Mendocino, CA. 95460
(707) 937-4323 Reservations