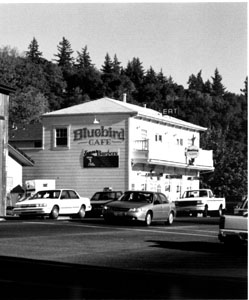 BLUEBIRD CAFE - HOPLAND
13340 S. Hwy 101,
Hopland 95449
(707) 744=1633
BLUEBIRD CAFE - HOPLAND
The morning sun rises above the mountains east of Hopland, climbing above main street and reaching inside the dining room windows of the Bluebird Cafe. Faces illuminated by the early morning light beam over breakfast. The bright and cheery dining room with old fashioned soda fountain bar and simple slogan - "quality food, big portions and reasonable prices" bring the locals and travelers in by the throngs. Great Chefs of Mendocino Stephen Yundt and Robin Paul not only utilized the finest seasonal produce they can buy, but also showcase and sell a variety of Made-in-Mendocino sauces and spreads, salad dressings and locally grown organic herbs.
Evening time means romantic candlelight and flowers as the dining room takes on a soft hew and the enamored eyes of lovers become inspired by the ambiance. Appetizers (from $6.95) include smoked salmon. Complete dinners (from $7.95) such as grilled teriyaki chicken breast, pasta primavera, steaks, chops, fresh fish and vegetarian entrees come with homemade soup and garden fresh salad. Delicious desserts, ice cream sundaes, banana splits and soda fountain beverages are served. The Bluebird Cafe' specializes in breakfast and weekend brunch. You also enjoy their newest location in Ukiah.
$-$$ BLUEBIRD CAFE 13340 S. Hwy 101, Hopland 95449
American Cuisine Open 6am - 2pm daily Weekends 8am - 8pm
(707) 744-1633 Sit Down/To Go