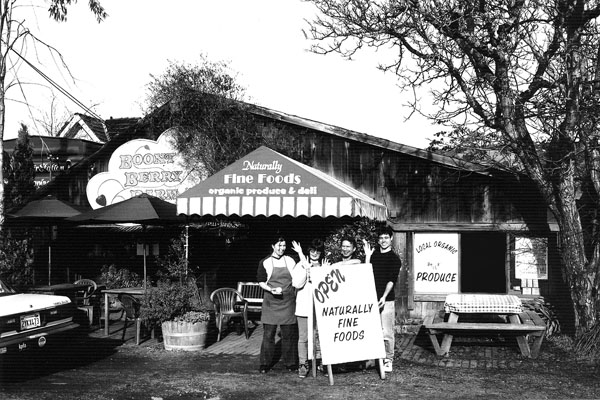 BOONT BERRY FARM STORE & CAFE: Founded In 1982
Natural Foods Store, Wine Shop, Gourmet Deli & Gardens
13981 Hwy 128,
Boonville, CA. 95415
(707) 895-3576
Health oriented travelers will find the Boont Berry Farm Store and Cafe in Boonville an ideal stop half way between the coast and inland wine country of Mendocino County. Its a marvelous produce outlet for those seeking fresh farm ripened fruit and vegetables. Nutritious light to heavy meals and snacks and shelves lined with packaged and fresh natural foods should bring pleasure to any soul. When you are driving long distances its important to eat right so you feel refreshed and capable of enjoying to the maximum the spectacular north coast. Here you can choose between fresh squeezed juices, homemade pies, pastries, cookies, breads and soups and garden fresh salads. There are dozens of chilled drinks to choose from and fresh brewed gourmet coffee and hot water for herbal teas.
Varying gourmet meals are served from 10am featuring homemade organic casserole's, lasagna, choice of three international salads daily, pizza, spanikopita, homemade chili and turkey or chicken pot pies. The emphasis is on high quality fresh Vegetarian meals. The rice, potato and vegetable entrees are very popular. "We take great pride in the fact that 100% of the produce from our farm is organically grown and everything is picked ripe," states proprietor Burt Cohen. –Boont Berry farm fresh pies are made with organic blueberries, gooseberrys, raspberries, strawberries, loganberries, black cap raspberries and boysenberries," states Burt. Its no wonder the Boont Berry Farm fresh pies are so delicious! –We also cater to groups of 10 to 1,000 and organic vegetarian fare is our specialty," Burt continues. Your face is sure to light up after a nutritious meal or snack at the Boont Berry Farm Store and Cafe.
$-$$ BOONT BERRY FARM STORE & CAFE
Health Foods, Gourmet Meals, Snacks, Mochas & Espresso, Organic Farm Fresh Produce
Open daily 10:00am - 6:30pm, Closed Major Holidays. Sit down or to go.
13981 Hwy 128, Boonville, CA. 95415 (707) 895-3576 Info on produce