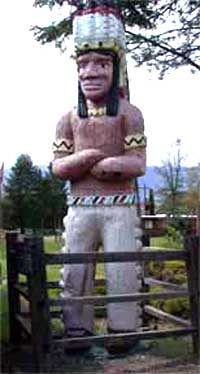 $-$$ THE CHIEF'S SMOKEHOUSE
Traditional All-American Cuisine
Texas Style Wood Fired Smoked & BBQ'd
New Beer and Wine Bar
SUMMER HOURS: Mon-Thur 11am - 8pm,
Fri & Sat till 9pm

WINTER HOURS: 11am - 7pm daily
4400 Hwy 101 North,
Laytonville, CA. 95454
All major Credit Cards,
Approved Personal Checks and Cash
Fax: (707) 984-6776
(707) 984-6770 Sit down or to go.
DOG FREINDLY PATIO - Water & Ice
Smoking on the Patio is OK
Be Sure to Listen to KPHAT - 99.9 FM
The CHIEF'S On Site Radio Station
The Chief Drive In was first built in 1967. This is a great place to plan for a lunch or dinner stop and take a break after your picturesque drive along the Redwood Highway. Native Texan Jeff Stewart, was raised in Houston, and came to California in 1982 and bought the Chief from Mendocino County Supervisor John Pinches in 2008. Among other things Jeff is a animal lover and The Chief is a dog friendly stop. There is a nice outdoor picnic area with shade trees, old fashioned wooden tables with canopies for dining al fresco on all American and weekend BBQ food. If the weather is inclement then the warm and cozy indoor dining room with red and white checkered table cloths and seating for 22 hits the spot. The blackboard menu by the order window has it all with over 30 items to choose from for lunch or dinner.
The Chief's dining room is a museum of 1960 POSTER's Featuring Musicians and Bands for the most part from Texas. Jeff states, "I buy, sell and trade posters with anyone - it is one of my loves. Next year we will host live music on the weekends." You are going to see rare posters here you would not even see in the Smithsonian Institute.
Jeff is a true artist at knowing just how to smoke the meats during the 14 hour process in the smoke house for the weekend Texas style BBQ feed. Beef ribs, steaks, chicken, and pork slathered in sauce and served with choice side orders fills you up. Side orders include regular fries, cury cuts, onion rings, cheese stix, chicken tenders and nachos and fries. Sandwiches include BLTs for $6.75, tuna melt, turkey melt, fish sandwich and grilled ham and cheese. Hamburgers and cheeseburgers are only $5.00 - double cheeseburgers $7.00. BBQ plates include rack a ribs $18.95, tri tip $12.95, pulled pork and brisket. There is pepsi sierra mist, orange, root beer, real iced tea and lemonade. Salads include the chef salad, chicken salad, tuna salad and garden salad for $3.50 and up.
Sorry no alcohol at this family oriented restaurant, but they do serve delicious chocolate, strawberry, vanilla, butterscotch, blackberry, cherry, oreo, coffee, mint chip, pineapplle and peanut butter shakes. Dessert includes seasonal berry pie, banana splits and cinnamon rolls.
"Laytonville is a very diverse community so we serve Cowboys to Hippies who live, work and play in this rural slice of America," states Jeff. "Cell phones work at The Chief, there is room to stretch your legs, we have abundant and safe parking for motocycles to huge RV's and we have some of the nicest and cleanest restrooms on Highway 101," Jeff continues. Laytonville is midway between the tallest trees on earth and America's most famous wine country. The Chief Drive In is a great place to rest and shift gears between two world famous regions.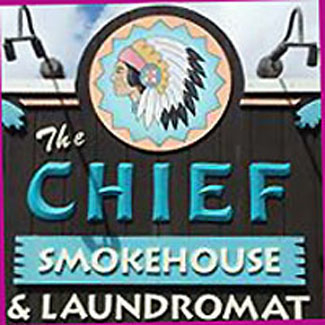 $-$$ THE CHIEF'S SMOKEHOUSE
Traditional All-American Cuisine
with Texas Style Wood Fired Smoked & BBQ'd
New Beer and Wine Bar
4400 Hwy 101 North, Laytonville, CA. 95454
SUMMER HOURS: Mon-Thur 11am - 8pm,
Fri & Sat till 9pm
WINTER HOURS: 11am - 7pm daily
4400 Hwy 101 North, Laytonville, CA. 95454
All major Credit Cards,
Approved Personal Checks and Cash
Fax: (707) 984-6776
(707) 984-6770 Sit down or to go.
DOG FREINDLY PATIO - Water & Ice

Smoking on the Patio is OK
Be Sure to Listen to KPHAT - 99.9 FM
The CHIEF'S On Site Radio Station