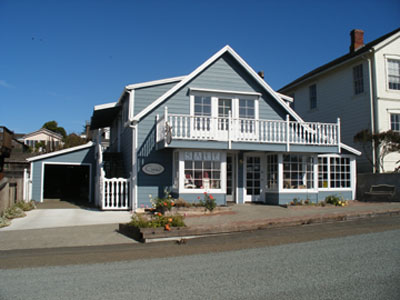 CIRCA
530 Main Street,
Mendocino, CA. 95460
(707) 937-0100
Established in 1973, Circa is one of Mendocino's original clothing botiques. Circa is located on the boardwalk of picturesque oceanview Main Street and under the direction of Mary and Glen Richard. The impeccable taste of the owners is reflected in the outdoor casual yet dressy selection of leather jackets, wool sweaters, Pendleton shirts, slacks, ties, belts and warm country dress clothing for the outdoor spirit in all of us. Some all organic and all natural clothing is carried. Men can vacation from the blue collar or executive look by purchasing a new outfit accenting their sporty outdoor personality with the more feral "Mendocino Coast Adventurer Look". "Miss Adventuress" may want to match you in her new ladies Pendleton with Tianello (ten cell fabric), Tribal pants and Brighton accessories. Be careful you don't bring out too much of the "feral side" of each other. There are beautiful Alpaca sweaters from Royal Scott, form fitting jeans, casual sportsware, coats and leather jackets from Remy to buffer the sunny to rough Mendocino coast weather.
The works of talented jewelers are sure to inspire and pull on your heart strings. Attractive natural abalone shell necklaces and ear rings from Mendocino jewelers, freshwater pearls, crystal, rare stone, silver, primitive necklaces, ear rings, pins and pendants of fozzilized 2,000 year old ivory radiate primitive elegance. Circa's setting encourages a love for the outdoors and passion for life which matches Mary's connection to the heart and soul of her home - the life affirming and breathtakingly beautiful Mendocino Coast. Circa is open daily from 11:00am to 5:00pm.
$-$$$ CIRCA
Ladies & Men's Clothing & Jewelry Botique
530 Main Street, Mendocino, CA. 95460
Open Mon - Sun 11am to 5pm
Cash, Credit Cards and approved personal chks.
(707) 937-0100