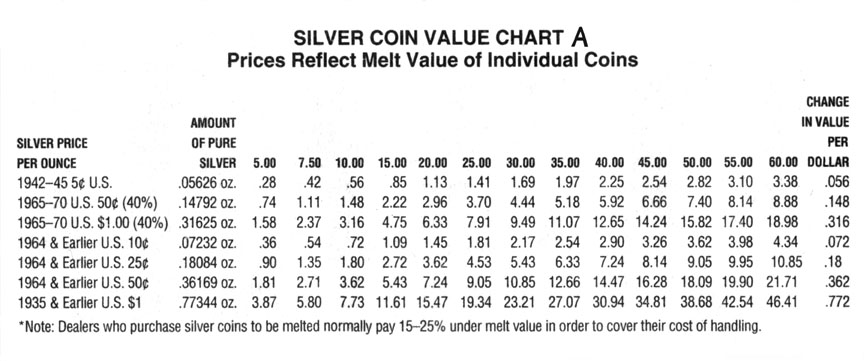 HERE IS TODAYS SILVER SPOT PRICE PER OUNCE
HERE IS AN EXAMPLE OF A SIMPLE TRANSACTION
Say you found or have 4 silver Washington quarters and 2 silver half dollars. Lets say today's price of silver
is at $18 per ounce. Now, look at Chart A. Each silver Washington quarter would be worth about $3.00 and
each silver half dollar would be worth about $6.00. If we multiply 4 X $3.00 = $12.00 and 2 X $6.00 = $12.00.
Thats a total silver value of $24.00. A coin dealer would give you a little less than that and a private collector
would propably give you more. There is also a numismatic (antique or rare) value which could be added
to each coin. All terms are negotiable and you need a willing seller and a willing buyer. Remember:
Strong trees bend in the wind and weak trees snap! Be realistic, give a little and you might get alot.
CASHING IN: Where can I sell the coins I have found?
1. COIN DEALERS:
NEVER CLEAN YOUR COINS! They are more valuable to a dealer if left just the way you found them.
If you are in a hurry to sell your coins see the "Contact" information below.
All of these dealers will pay you the daily "spot price of silver" as well as pay you more for the numismatic value
of any rare coins you bring to them. Coins that are rare or Very Fine (VF), Extra Fine (EF), Almost Uncirculated
(AU), or Uncirculated (UNC) - Brillant Uncirculated (BAU) or Proofs (PR) are worth more. In some cases much
more. NOTE the silver currency chart showing silver spot prices and value of coin denominations (CHART A).
Coin dealers will be happy to "appraise" the coin value and make you a offer, but is the offer fair and realistic?
Don't be afraid to get a second or third opinion. Remember if you found the coin in change and just paid for it's
numeric value, you are making out. Don't be unrealistic - this only sabotages your potential. There is a learning
curve and trade secrets to coin collecting.
HERE ARE A FEW COIN COLLECTING TRADE SECRETS:
1. Silver prices usually run in a 30 year cycle. As of May of 2011 silver went to a high of $48 per ounce.
It has been fluctuating between $25 and $35 since. If you are planning to live another 30 years - you can afford
to hold onto your coins. If not - SELL NOW!

2. Because so many people have happily cashed in their silver coins there is a large quantity of AU and BAU
silver dimes, quarters and halves in the "JUNK SILVER" trays. When silver goes over $35 per ounce you will
even find silver PROOF coins. These are more valuable coins, which you can pick up at junk silver prices.
If you are a collector your coin books will look bright and valuable.

3. Some coin shops and dealers have "CULL" silver dollar trays. These are beat up, painted over or more
common dates. However, some of these might be XF - AU grade. Coin dealers who sort through thousands of
coins each week can get tired and cranky - and slip up if distracted. They can also get toxic metal poisoning
which can "fry their nerves". They need to use gloves or do a heavy metal cleanse. (Copper pennies can be
especially toxic). I have even discovered CC (Carson City) silver dollars in these trays as well as other
semi rare dates.

4. In my opinion your best investment is silver. WHY? Because silver should have a classic 15 to 1 ratio
with gold. In other words if gold is $1,500 per ounce, then silver should be $100 per ounce. The price of
sliver is being held down by gold market investors. Its an old story - just watch the "Wizard of Oz" and look
for the hidden meanings. Someday soon it might bust loose and when it does a lot of silver holders are going
to be very happy.

5. In these times the real value is in commodities - especially food and fuel. You can't eat your silver coins.
Why not invest some of that silver into a food bank for you and your loved ones and neighbors - and don't leave
out the pets. I wish you happy silver coin hunting.

NEW FEATURE:
Click Below To View CONSIGNMENT COINS FROM PRIVATE PARTIES
RECOMMENDED COIN DEALERS
JACK H. BEYMER RARE COINS
BLACK OAK SHOPPING CENTER
2490 W. 3rd St.
Santa Rosa, CA. 95401
(707) 544-1621
Toll Free: (800) 635-6040
Fax: (707) 575-5304
After Hours (707) 544-1681
Member: Professional Numismatics Guild (PNG)
BRUCE BRAGA RARE COINS and COLLECTIBLES
Large Selection of Carson City (CC) Gold and Silver Coins
P.O. Box 652
Sloughhouse, CA. 95683-0652
(408) 839-1883
Fax: (916) 354-1592
Member: American Numismatic Association (ANA)
Email: bruce@bragacoins.com
DON RINKOR RARE COINS
2600 Mendocino Ave,
Santa Rosa, CA 95403
Phone: (888) 870-2646
Toll Free: (888) 870-2646
Member: Professional Numismatics Guild (PNG)
SAN RAFAEL RARE COIN COMPANY
Rare Coins, Bank Notes,
Gold, Silver and Platinum Jewelry, and Precious Metals
Roger Tobin
1219 Fourth Street
P.O. Box 150959
San Rafael, CA 94915
Phone: (415) 457-2646
Fax: (415) 457-8766
Email: srrc@packbell.net
Open Mon - Fri from 11am - 4pm
After Hours by appoiintment
Member: ANA, PCGS, ICG, NGC, NCS Accredited
SIERRA GOLD & COIN - JOHN ENGELHARDT - GRASS VALLEY - GOLD COUNTRY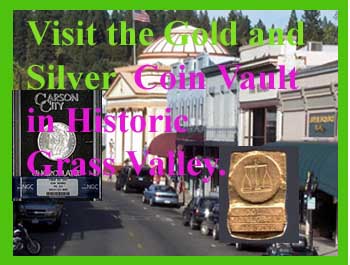 We Buy - Bullion Gold & Silver, Placer & Nuggets, Coins & Collections, Jewelry, Estate - Gold & Silver.
We Sell - Bullion Gold & Silver (Special Prices on Quantity Purchases), Placer & Nuggets, Coins & Supplies.
Appraisals in Our Store or at Your Residence
203 West Main Street
Grass Valley, CA. 95945
Phone: (530) 272-1100
Fax: (530) 272-1130
EBAY User ID SGANDCOIN
info@sierragoldandcoins.com
Member: ANA, CONECA and Redwood Empire Coin Club
ERRORS and MORE - JIM CAULEY - SACRAMENTO - GOLD COUNTRY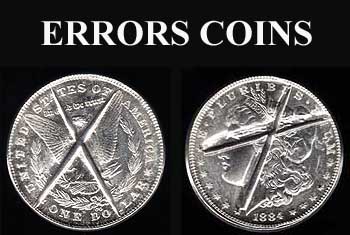 Authentication and Appraisals on ERRORS.
United States and Foreign Coins,
also Buying and Selling Gold and Silver Coins
CASH PAID - WILL TRAVEL
Phone: (916) 212-6752
EBAY User ID RECCLM50
kjcauley@netzero.com
Member: CONECA and
Redwood Empire Coin Club
RECOMMENDED PAWN SHOPS
Many do not recognize the opportunity that Pawn Shops offer when it comes to buying silver or gold coins -
or using your existing collection to get an emergency loan. Most coin shops do not offer this opportunity,
unless you know the owner personally and can be trusted. Pawn shop owners often do not recognize rare or
nusmismatic coin values because that is not a major part of their business. Remember they buy, sell and loan
money on a large array of items from A-Z. The small heart centered pawn shop owner can save your car, your
apartment, your home, your pet, or maybe even your life or the life of a loved one long before a bank or
credit union would. Don't be afraid to ask, negotiate for what you need and expect miracles.
The webmaster of this site, Robert W. Matson has personally checked out each of these Pawn Shops
and recommends the shop owners as fair and honest.
CAPUTO'S PAWN
Buys Silver and Gold Coins
Common to Rare 90% silver coins for sale
in the display case - Cash and Credit Cards
Open 10am to 6pm Mon-Fri, Sat 10am - 4pm.

9001 N. State St.
Ukiah, CA. 95470
(707) 272-3275
CELL (707) 272-8383
Kenneth@caputospawn.com
CRAFTSMAN ESTATE & TRADING - NORTHERN CALIFORNIA - UKIAH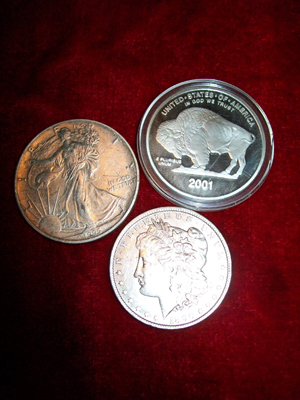 Buy, Sell, Consign, Fast Loans on Coins
and Collections, Silver, Gold and Jewelry
Free Appraisal Services.
Lance Anderson & Family
306 North State Street
Ukiah, CA 95482
Phone: (707) 463-3900
Email: craftsmanestateopffice@gmail.com
Open Mon - Fri from 10am - 3pm
After Hours by appoiintment
Webmaster: Robert W. Matson (707) 522-0550
Hobbiest and Two Decades Experience With US Coins 1878 - 1964
Member: Redwood Empire Coin Club