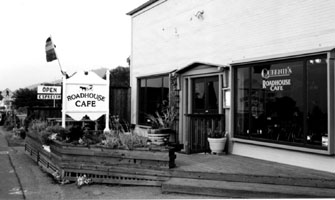 QUEENIE'S ROADHOUSE CAFE
6106 South Hwy 1,
Elk, CA 95432
(707) 877-3285
Lynn Derrick, "Queenie" for short, loves to cook. Here, in her cozy cafe by the sea she prepares gourmet breakfast and lunch from the freshest organic ingredients she can get her hands on. –Breakfast is something I look forward to anytime of the day", Queenie states. Dining is indoors or out - sit down or to go. Guests with clean and human-friendly dogs are welcome on the open air front patio with fabulous oceanviews.
The eggs, fresh vegetables, fruit, meats and cheese come from Mendocino or northern California farms and ranches. Always organic are the mochas and espressos, fresh green garden salads and homemade bread. Breakfast is served all day and for lunch you can savor delicious homemade soup, veggie or 1/3 lb grilled burger, fresh fish from local fishermen and a variety of gourmet specials served throughout the week. Mendocino micro-brewed beer, Big River organic coffee, herb tea and fresh squeezed juice complement your meal. Queenie gets energized when she is at the cafe and the warrior/chef in her displays boundless energy, a far side sense of humor and her big heart comes out. There is only one place like Elk in the world and only one Queenieês Roadhouse Cafe. Open 8am-3pm, closed Tues & Wed.
$-$$ QUEENIE'S CAFE 6106 Hwy 1, Elk, CA 95432
Gourmet Country Cooking Major credit cards (707) 877-3285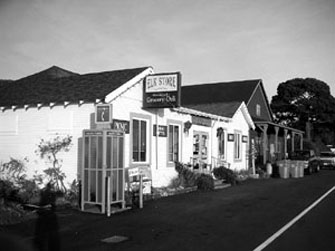 ELK STORE and DELI
6101 South Hwy 1,
Elk, CA 95432
(707) 877-3411
No matter what the weather, the day or the mood of the highway, the oceanview Elk Store (circa 1927) stays open 363 days of the year offering freshly brewed organic coffee, snacks and local and organic California products. Friendly proprietress Pat Jelen, who bought the store in spring 2003, always has tips & advice for locals and tourists alike.
The deli case is stocked with over a dozen each of cheeses, breads and sandwich meats for a picnic at the beach (and yes, sandwiches are made on the premises). Premium Mendocino County wines and beers, mineral water, locally harvested fruit juices and sodas line the cooler shelves. Packaged and bulk fresh produce (some from local farms) is available year around. Health foods, vitamins, pet food and shelves of canned and packaged foods await. Across the highway is Greenwood-Elk State Park and a lofty trail which leads down to the broad sandy driftwood scattered beach and spectacular Elk Cove.
$-$$ ELK STORE 6101 South Highway 1, Elk , CA. 95432
General Merchandise Major credit cards. (707) 877-3411 Info.