FAMILY HANDS
200 East Redwood,
Fort Bragg, CA. 95437
(707) 961-8263
Doria Lewis has created a very uplifting environment to shop in. Talent runs in the Lewis Family.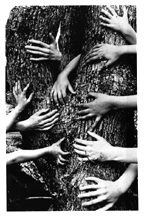 Her parents raised the kids in a Native American tradition with no TV or computers, hence Doria follows her natural instincts. She and her sister Shannon are both painters, her brother is a furniture maker and her father was a photographer, architect and fisherman.
At Family Hands bright and soft colors highlight rich natural wood, leather and iron furnishings. Fun and whimsical gifts are scattered about. Doria is a natural at selecting gifts and home furnishings that nourish the senses of sight, touch and intuition. Visit the store; bring inspiration back to your home or office.
$-$$$ FAMILY HANDS 200 East Redwood, Fort Bragg, CA. 95437
Fine Gifts and Furnishings Open daily 10am - 5pm (707) 961-0236