FORT BRAGG FEED and PET
A Fun Place To Vist and Shop
880 Stewart Street Unit D
Fort Bragg, CA 95437
Phone: (707) 964-3333
Fax: (707) 964-1372
Email: fbfeed@fortbraggfeed.com
HOURS OF OPERATION
M - F 9:00 AM - 6:00 PM
Sat 9:30 AM - 5:00 PM
Sun Closed
Welcome to the only feed store in Mendocino County owned by twins. That is only one of the reasons why its twice as fun to shop here! Located within walking distance of historic Glass Beach and downtown Fort Bragg, we feature top pet foods such as Evo, Natural Balance, Innova and Science Diet as well as toys, chews, biscuits, flea and tick control products, leashes, engraved I.D. tags, grooming products, dog sweaters, dental care, and everything else your pet needs to lead a long, healthy, happy life. Twin sisters Cathy Rowbottom and Connie Van Curen, and Connies husband Gale, own Fort Bragg Feed and Pet, and the business has been in their family for 24 years.
The folks at Fort Bragg Feed and Pet have food for cattle, dairy cows, deer & elk, fish & aquatics, goats, horse, poultry, rabbitt, show chow, swine and wild birds. They offer an enourmous line of healthy and nutritious food wilth a great "Sense of humor" from cat food that solves hairball issues to cricket food that gutloads the crickets to make them more nutritious for your gecko. They help you take the very best care of those most important members of your family. They recently expanded their reptile supply section, so let them know what you think of what they have and what you think they should add. Let them hear from you because you are who we are here to please! They even feed the "World's Ugliest Dog"!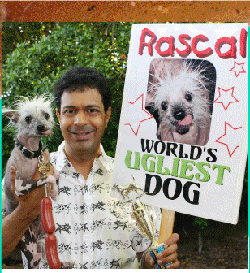 Fort Bragg Feed & Pet has a large inventory with lots of products, but our biggest commodity is service. In addition to vehicle loading, deliveries, and money-back guarantees, Fort Bragg Feed & Pet offers free water testing for ponds and aquariums. We are happy to special order products for you. Cathy is the "Chicken Lady" and is on hand to answer questions, offer advice, and share your excitement when your chickens lay their first eggs. Dogs are always welcome in the shop and theyll get at least one free biscuit each visit. Some dogs even serve themselves from the biscuit bar located at the front of the store. We have the best price around on Greenies for your dogs breath and dental health.
Fort Bragg Feed & Pet emphasizes customer service. Heavy items are loaded into customers vehicles for them. Our employees are educated about the products we sell so customers can shop with confidence. Our pet foods are guaranteed‹if a pet wont eat it, Fort Bragg Feed & Pet will exchange it or refund your money on the spot with no questions asked. Our orchard grass hay is the finest quality you can feed your horse, and no matter whether you buy grass hay or alfalfa hay, we guarantee every bale.
Established more than 20 years ago, Fort Bragg Feed & Pet has expanded and evolved over the years. In the beginning, Cathy Rowbottom was the store's owner, and the store was called Fort Bragg Feed and Supply. In 1998, Gale and Connie Van Curen joined the ownership of "the feed store," as many of our long time loyal customers call us. Baker Hayter and Melvin Jacobson have been on staff since 1985, and are well known. Throughout the years, we've employed many members of our community. We've had more of the local high school students on staff here than we can easily remember.
LOYALTY IS AN IMPORTANT HUMAN QUALITY
NO ONE IS FORGOTTEN AT FORT BRAGG FEED and PET
Our friend and employee of 23 years, Melvin Jacobson, passed away on December 29, 2008. Jay Gray sent the following poem in a card, which Cathy read at the graveside service.
Here is a Poem For Melvin by Jay Gray

We lost our friend to God they say, but we know for sure he's not buckin' hay

He'll be back just wait and see, as a dog or a cat or a horse named Flea

He was so special, grumpy or funny, he'd bring me my hay and call me honey.

At the end of the note Jay summed it up best when she said, "I'll miss that old coot and I know you will, too."
"We will miss you, Melvin."
In addition to our large assortment of livestock and pet feeds, we sell tropical fish, birds, small animals, and an ever-increasing inventory of pet toys, cages, collars, and leashes. We are known for a well stocked parts department of pig ears, bully sticks, hooves, and other dog chews and treats. We have a dog tag machine with pet ID tags that can be engraved on both sides. A good idea when having a pet ID tag made for your pet is to also have the word REWARD engraved on the tag. Our upcoming expansion of our retail store will give us room for a tack department and more birds, fish, and other products. Watch us grow and dont be afraid to make suggestions about things we can add or do to help us serve you better.
Please check the Web site often to keep abreast of new products specials and upcoming events. Plus, you wouldn't want to miss one of our contests or quizzes. Fort Bragg Feed & Pet's slogan is "Your downtown feed store€and a whole lot more!" Visit us soon and youll find out what the more is all about!
$-$$$ FORT BRAGG FEED and PET
Full Line of Feed and Pet Food From A-Z
With Tons of Friendly Service and Expert Advice
Box 1515, 45052 Main St., Mendocino, CA. 95460
Open 10am - 5pm daily (707) 937-3132 Info.