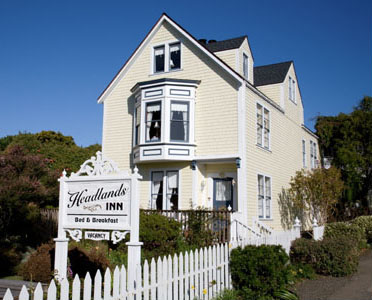 HEADLANDS INN
BED & BREAKFAST
Box 132, Howard & Albion Streets
Mendocino, CA. 95460
Toll Free (800) 354-4431
(707) 937-4431
The Headlands Inn is ideally located in the heart of Mendocino and is a short stroll to all the finest shops, galleries, restaurants and hidden treasures this historic "movie set" community has to offer. The Headlands Inn is a 3-story New England Victorian salt-box-by-the-sea, which offers ocean, village and garden views extraordinaire. All six rooms and the cottage have private baths, wood burning fireplaces, featherbeds and lots of nice amenities (robes, large fluffy towels, hair dryers, CD clock radios and wireless internet). The romantic cottage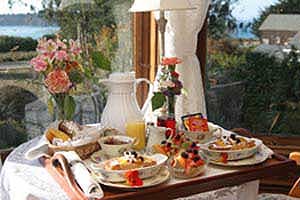 also has cable TV/DVD, microwave, refrigerator and large spa tub for two with jets and bubbles to sooth and relax.
Denise & Mitch enjoy being innkeepers in the historic charm of their 19th century inn and have added many comforts for their guests. Full gourmet breakfasts are served to the rooms on a tray with the San Francisco newspaper each morning. Sample hot breakfast entrees include stuffed French toast or Southwestern egg casserole with pumpkin bread, pineapple zucchini bread and fresh fruit. Each entree is served with organic coffee, tea, and fruit juice. At the end of the day there is an afternoon tea service with spring water, home-baked cookies and sherry. Rosie the inn-cat will tune you into the miniature world around the inn where butterflys, hummingbirds, moles, and song birds visit the English flower and herb gardens. It is a real pleasure to throw away the car keys and settle in for a pleasant stay at Headlands Inn. Seasonal rates for 2 are from $99 - $269.
$$ HEADLANDS INN Box 132, 10453 Howard Street, Mendocino, CA 95460
Located at the corner of Howard & Albion Sts., Mendocino
Oceanview Bed & Breakfast 1-800-354-4431 or (707) 937-4431 Reservations.