HIGHLIGHT GALLERY
World Class Art - Buy Direct From the Artist in Our Showrooms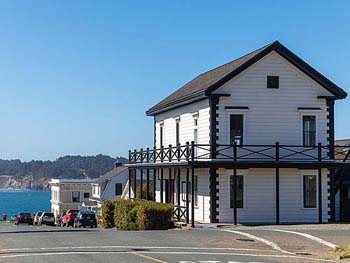 Corner of Ukiah and
10480 Kasten Street,
Mendocino, CA. 95460
(707) 937-3132
The Highlight Gallery on Main Street in Mendocino, has showcased the finest work of Northern California painters, sculptors, fine woodworkers/furniture makers and artisans since 1978. Come and visit them in their brand new gallery
Everything in the gallery is handmade in America. Highlight also offers fine jewelry, natural ocean sandpaintings, turned vessels of wood and alabaster, wire sculpture, art glass and hand-crafted gifts. The casual craft lover or serious art collector will enjoy a leisurely stroll through the gallery rooms of one of California's largest galleries. Perhaps most important in visiting the Highlight Gallery, either in person or at our online showroom, is an opportunity to buy pieces of fine art, hand-made furniture and gifts that last a lifetime. There is truly something for everyone.
$-$$$ HIGHLIGHT GALLERY
Mixed Media Specializing in Local Mendocino Artists
Box 1515, 10480 Kasten St., Mendocino, CA. 95460
Open 10am - 5pm daily (707) 937-3132 Info.