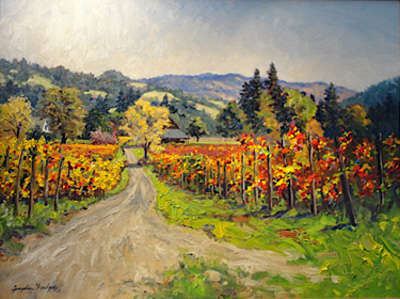 JOHN HANES GALLERY
John Hanes Gallery
World Glass Art and Sculpture
P.O. Box 510.
14051 Highway 128
Boonville, CA 95415
Cell: 489-0981
Londer Vineyards Tasting Room
(707) 895-9001
Open Wed - Sunday 11am - 5pm
Cash, Approved Checks
Major Credit Cards Honored
Painting at right by Graydon Foulger "Anderson Valley Vineyard"
California has its share of people with big ideas. Boonville has John Hanes. John Hanes's idea was to build a cathedral sized art gallery. He did just that. The gallery offers a volumous interior of tastefully displayed works of artists from several western states. The building was designed by his son Ward.
John grew up between a life in San Francisco and summers on a 8,700 acre ranch west of town which he still owns with his two brothers Don and Roger.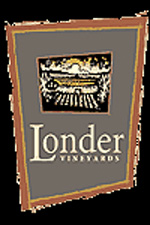 John carved toys out of wood as a child to trade with schoolmates for store bought toys. Trained in fine arts he has created sculptures in all mediums. "I will show the best artists in the world at my gallery and this will be a reason why people come to Boonville," he states. Didn't someone say it is the artist who helps build the road between heaven and earth?
A visit to the showrooms will reveal original art that pull on the heart and cause the viewer to go oooooh and aaaaah. You can also wine taste in the Londer Vineyards tasting room. The owners of Londer Vineyards informed me that all the grapes used in their wine were grown organically (though uncertified). I believe them. So we have original world class art served with a taste of California premium wine. Now thats worth celebrating about. And that means a visit to the John Hanes Gallery in downtown Boonville.
| | |
| --- | --- |
| Graydon Foulger "Pumpkins" | Graydon Foulger "French Dinner" |
Decorating your home, garden or work place with original art reduces stress and promotes life and inspiration.
$-$$$ JOHN HANES GALLERY
World Class Art and Sculpture
P.O. Box 510., 14051 Highway 128, Boonville, CA 95415
Cell: 489-0981
Open Thursday - Monday 11am - 5pm
EMAIL: johnhanesgallery@gmail.com

$-$$ LONDER VINEYARDS TASTING ROOM
Tasting & Retail Sales - (707) 895-9001
Open Thursday - Monday 11am - 5pm
Cash, Approved Checks
& Major Credit Cards
Winery Location: 4830 Monte Bloyd Road, Philo, CA 95415
(707) 895-3900
NOTE: The Showroom Inventory is Constantly Changing