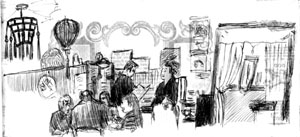 LEE'S CHINESE RESTAURANT
154 E. Redwood Ave.
Fort Bragg, CA. 95437
(707) 964-6843
The reason why Lee's Chinese in downtown Fort Bragg is so popular is because you can count on friendly service, generous and delicious servings and reasonable prices. Walter and Yong Lina and their children, Angela, Suzann and Jennifer who grew up in Fort Bragg, have strong community ties. They are kind and have a loyal clientele with many travelers stopping by when in Fort Bragg.
For only $5.95 you can enjoy the lunch special of vegetable chow mien, fried rice, fried won tons and choice of sweet & sour pork, broccoli beef or garlic chicken. Traditional Chinese entrees (from $7 - $12) include Mongolian beef - strips of beef, green onions, red chili peppers, rice and noodles; Mushu - vegetable stir fry with choice of chicken, beef or pork with crepes on the side with Hosin sauce; or the "Happy Family" - a feast of ten fresh vegetables with sauteed scallops, shrimp, beef, chicken and pork. Your entree comes with Jasmine tea and there is Sake and premium California wines. Orders are sit-down or to go.
$-$$ LEE'S CHINESE CUISINE
154 E. Redwood Ave., Fort Bragg, CA. 95437
Mandarin Cuisine
Open: L 11am-3pm / D 3pm-9pm
(707) 964-6843