LES SCHWAB TIRE CENTER
1565 S Main St,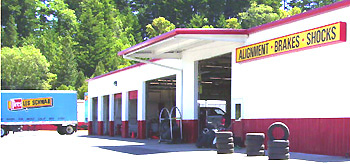 Willits, CA 95490
Telephone: (707) 459-5938
Info & Appointments
Fox: (707) 459-5989
kirk.j.reed@lesschwab.com
Open 8am - 5pm Mon-Fri
and 8am-NOON Saturdays
Major Credit Cards,
Cash & Approved Checks
No one likes a flat tire. They can happen when you least expect them. They are scary and can leave you stranded and vunerable. Sometimes they happen at night and in the middle of no where and worse yet it could be a cold dark rainy night. If you don't have a cell phone and can't call a tow truck or AAA then you could really be in trouble. Do you have blankets in the trunk to keep you warm? Is your car battery charged up enough to listen to late night radio? Did you bring your dog for protection? Do you have a flashlight, road flares, snack food and drinking water? How about a "spare tire in a can" to try and reinflate the flat? Can you hear the coyotes howling in the distance? Is that the siloutte of Bigfoot on that hillside above the road? How about the rattlesnake that crawls under your engine to keep warm? Is it time you bought some new tires or got your vehicle safely served by a honest and reputable tire shop?
The folks at Les Schwab Tire Center in Willits, California have heard a lot of stories from their customers. General Manager Ken Kirby and his staff know an ounce of prevention is worth a ton of cures. For decades the staff at Les Schwab Tire Centers have been pleasing residents and visitors with exceptional service, quality tires and parts and fair prices.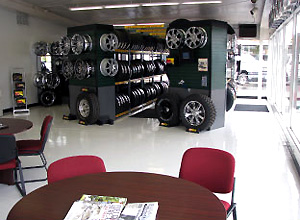 They guarantee all their work and the crew at Les Schwab are knowledgeable, experienced and thoughtful. This is the best place to buy your tires, get your wheels balanced, front end aligned, brakes repaired or car, truck, RV, or tractor trailer tuned up. They stock a full line of Goodyear and Firestone tires - both new and quality used tires.
While the skilled mechanics at Les Schwab Tire Center are working on your vehicle you can relax in their comfortable waiting room, read a magazine, enjoy a cup of coffee or tea and look at the inventory of tires and products they carry. They even have toys for the kids and a TV if you want to watch a cartoon. And yes, they like friendly dogs and there is a water dish in the lobby for them. The waiting room is heated so you are comfortable on cold winter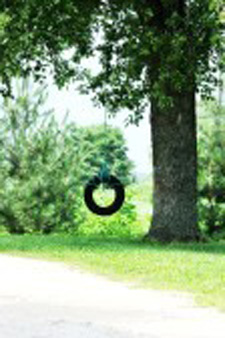 days and air conditioned on those hot 100 degree Willits summer days.
Just think for a minute how important your tires and brakes are. They get you safely home and back. Transport you to work, school or the hospital. Take you star watching late at night or to the edge of America to watch a fabulous Pacific Coast sunset. Put the Les Schwab Tire Center team to work for you and drive in peace and safety through the next chapter of you and your loved ones life!
$-$$$ LES SCHWAB TIRE CENTER
Quality Tires for All Vehicles, Brake Jobs, Alignments,
Used Tires and Tire Repair, Custom Rims and Hub Caps,
Comfortable Waiting Room that is Child and Pet Friendly
1565 S Main St, Willits, CA. 95490
Telephone: (707) 459-5938 Info & Appointments
Fox: (707) 459-5989
Open 8am - 5pm Mon-Fri and 8am-NOON Saturdays
Major Credit Cards, Cash & Approved Checks