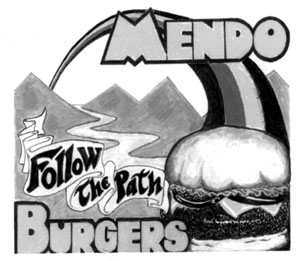 MENDO BURGER
10483 Lansing Street,
Mendocino, CA. 95460
(707) 937-1111
Open Wednesday - Monday 11am - 5pm
For over 20 years the popular Mendo Burgers has been serving up delicious beef, fish, turkey and veggie burgers. New owners Jeff and Barbara came from New York where malt shops were on every corner when they were kids. "Authentic places like Mendo Burgers just don't exist anymore", states Barbara. She is right and and a loyal following of youngsters to baby boomers agree.
New additions include grilled chicken and organic beef. Jeff's specials are patty melts, blue cheese burgers and the "Pig Out" - a double burger with chili and Barbara's delicious French fries, always fresh cut from whole potatoes. She will also make you a thick frosty milk shake or malts like the good old days. You can enjoy the garden or dining room or sit at the counter and have Jeff and Barbara entertain you while they prepare your meal. Recently remodeled, the indoor dining room is a great place to dine, play chess or watch a movie.
$ MENDO BURGERS 10483 Lansing - follow the paths center to Mendocino Burger Cafe
All American Food (707) 937-1111 Sit down, al fresco in the garden, to go.
MAP of Mendocino