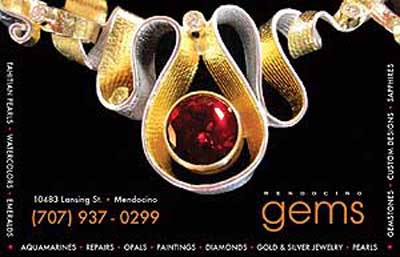 MENDOCINO GEMS JEWELRY GALLERY
Jewelry and Precious Stones
10483 Lansing Street,
Mendocino, CA 95460
Seasonal Hours -
Usually 10:30am - 5:30pm
Major Credit Cards and Cash
judithbeam@gmail.com
(707) 937-0299
Mendocino Gems Gallery and Studio is a inspirational showroom that features fine handcrafted jewelry by owner Judith Beam and other local precious stone, silver and goldsmiths. A profound display of mixed media jewelry will dazzle your eyes. Lapis, moonstone, saphire, rubies, diamonds, pearls and mineral stones from A-Z set on gold, silver, tapestry and stone are displayed. Judith is a very knowledgeable gemologist and understands that each person needs different mineral stones at different times in their life; often for healing or rights of passage and for reasons of the heart, mind and spirit.
Shopping here with your 6th sense of intuition is a plus. As you explore the jewelry cases of the showroom, some of the handcrafted rings, bracelets and necklaces will pull on you - don't hold back - you are in this gallery at this moment to acquire a "new friend" that will be very good for you. Find a mineral or piece of jewelry you are attracted to and then ask Judith who made it and what are its properties. Mendocino Gems Gallery and Studio is a cornerstone shop located across from the Savings Bank of Mendocino and is normally open from 10:30 am - 5:30 pm. Occasionally Judith works as late as 9:00 pm, so if you see the lights on stop by for your "Mendocino Art Hit" and find out what magic she is creating.
MENDOCINO GEMS GALLERY
Jewelry and Precious Stones
10483 Lansing Street, Mendocino, CA 95460
Seasonal Hours - Usually 10:30am - 5:30pm
Major Credit Cards and Cash
judithbeam@gmail.com
(707) 937-0299
Mendocino Gems Website