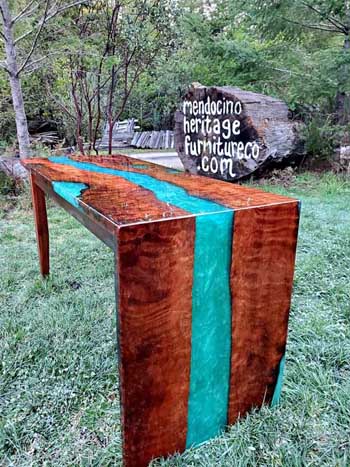 MENDOCINO
HERITAGE FURNITURE
Custom Redwood HEART Furniture
10450 Lansing & Albion Streets, Suite #8,
Mendocino, CA 95460
Mendocino Showroom Office: (707) 397-1411
OPEN: Noon-5:00 pm Wed - Sat
Or By Appointment (707) 357-4562
From the deep redwood forests of northern California await some of the most beautiful and majestic wood in the world. Now you can explore the Mendocino Heritage Showroom in Mendocino, California and purchase or commission truly inspirational furniture for your home, office or outdoor setting. The Crowningshield Brothers - John and Steve along with a carefully selected crew of skilled craftsmen have created this majestic beauty and opportunity for you.
Its Not Easy
Harvesting rare commodities and treasure like gold or diamonds always has its risk. Rangling heavy equipment, dangerous back breaking work, encounters with river sharks, eels, dodging widow makers, huge bears, mountain lions, rattlesnakes, feral back-woods desperados, and forest spirits.
Success is built on a vision of a future need, sourcing earths valuable commodities in a conscious way, crafting a new and beautiful produce that feels good to the touch and liberates the eye from stress, holds its value and is durable and practical to last generations. A "River Table", computer stand, chair, door, window frame or wine rack created by Mendocino Heritage craftsman is sure to impress and inspire.
Historical
The first Redwood fossils date back more than 200 million years to the Jurassic period. Before commercial logging and clear cutting began in the 1850s, coast Redwoods naturally occurred in an estimated 2 million acres. When gold was discovered in 1849, thousands of people came to California and the Redwood forests were logged extensively to satisfy the explosive demand for lumber and resources. Today, only 5 percent of the original old-growth forest remains.
Reclaimed
During the logging boom of the 1850's-1930's, many ancient Redwood logs sank to the the river bottom on the way to the sawmill. Inspired by their father's appreciation for the historical beauty of old growth Redwood, the Crowningshield brothers began their search for these lost giants. Their passion for this incredible wood grew as they worked for over two decades to reclaim massive logs from the river bottoms and forests of Mendocino.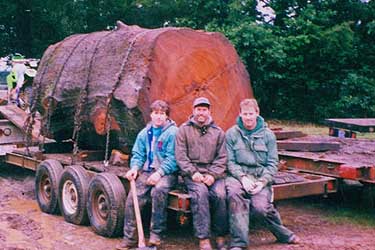 Today
Because of the limited availability and exquisite qualities of this wood, each piece is unique, custom handcrafted and hallmarked in Mendocino by the Crowningshield Brothers. Most of their products are made with rough milled lumber, hand sanded smooth to the touch, oiled and assembled. Leaving the original saw marks and industrial scaring serves as a reminder of the history embedded in each piece.
Want to See Our Latest Work?

Email: info@mendocinoheritage.com