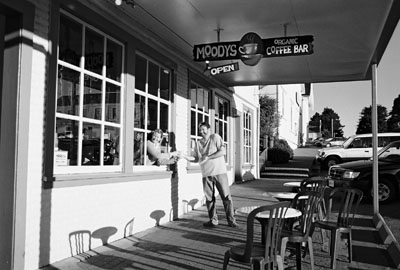 MOODY'S ORGANIC
COFFEE BAR and INTERNET CAFE
10450 Lansing Street,
Mendocino, CA. 95460
(707) 937-4843
Open Wednesday - Monday 11am - 5pm
Two of your favorites await at Moody's Organic Coffee Bar and Internet Cafe. The Bjerre family (Bill & Linda and son Billy) serve Mendocinos earliest in the morning cup of coffee. Moodys Organic Coffee Bar boasts five public computers for accessing the Internet. The latest in Wireless technology is also available for those who bring their laptop computer. Known for the friendliest service in town, Moodys serves up a "Great Cup of Joe for Folks on the Go" - thats the motto of Adams Organic Coffees, their exclusive coffee roaster.
The snack food complimenting the organic coffee is wonderful.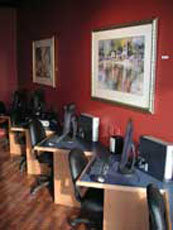 Visitors can buy an array of award winning pastries such as Danish from Costeaux Bakery in Healdsburg, McTavish short bread cookies, Vegan Heart Thrive cookies plus fresh fruit juices. Moodys and Adams Organic both contribute to environmental, social action and peace groups. Its coffee with a conscience!! Youll also find organic treats and munchies. Indulge in an organic cappuccino or mocha with a oceanview.
$-$$ MOODY'S ORGANIC COFFEE BAR & INTERNET CAFE
Open 6:00am - 8pm daily 10450 Lansing Street, Mendocino, CA. 95460
(707) 937-4843
MAP of Mendocino