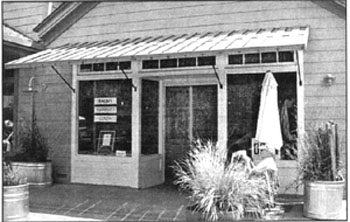 MOSSWOOD BAKERY,
CAFE & MARKET
P.O. Box 494, 14111 A Hwy 128,
Boonville, CA. 95415
(707) 895-3635
Sharon Hurley has a lot of happy customers at Mosswood in Boonville. She and her staff bake up a storm of scrumptious breads, rolls, pastries, sticky-buns, pies and cakes. Early morning travelers can catch a espresso or mocha from 7am Monday thru Friday and from 8am on Saturdays. Just about everyone in the Anderson Valley has stopped by for coffee and breakfast or lunch. The daily fare includes garden fresh salads, wraps, homemade soup, Paninia - served on La Brea focaccia bread, hot & cold sandwiches and specials. In the cheerful interior are art displays. Dining is indoors or out (weather permitting) and galleries, shops and wineries are nearby.
$-$$ MOSSWOOD BAKERY, CAFE & MARKET
Sumptuous Baked Goods, Espresso & Mochas, Breakfast and Original Lunch Fare
P.O. Box 494, 14111 A Hwy 128, Boonville, CA. 95415
Open Mon - Fri 7am to 3pm, Sat 8am - 3pm
Cash, travelers and local approved personal chks.
(707) 895-3635 Sit down or to go