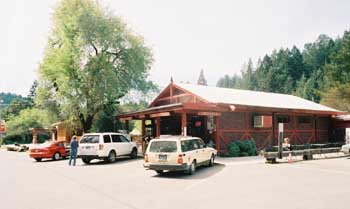 PEG HOUSE GENERAL STORE, CAFE, DELI,
COFFEE HOUSE and INFORMATION CENTER REST STOP
General Store, Deli - Coffee House,
Outdoor Stage and Information Center
69501 Hwy 101
Leggett, CA. 95585
Telephone: (707) 925-6444
Open Daily 7am - 8pm
Pay Phone, Bathrooms, Shade Trees,
Room to Stretch for Children and Pets
Two miles north of Leggett is a sight to experience. This cozy and historic Redwood Empire structure is held together in the Danish tradition entirely with wooden pegs. The hand hewn beams and Old World craftsmanship pleases visitors from around the world who come here to swim and fish the south fork of the Eel River and explore the magnificent towering redwood corridors.
The Peg House is a popular stop on Highway 101 for truckers, working professionals, bicyclists and tourists seeking convenient on/off road parking and a roomy picturesque picnic area in which to get out and stretch their legs. Outside is a pay phone and public restroom. Owners Diana and Gary Ballard keep the Peg House open rain or shine, snow or heat, 365 days of the year. They also host concerts, movie night and live music events in a large and sheltered outdoor stage adjacent the store. During the fiercest of winter storms the lights stay on at the generator equipped Peg House.
In the deli delicious homemade sandwiches, soups and salads are created which can be shared with a fresh cup of organic coffee, mocha or espresso, chilled mineral water, juice or soda pop. The espresso and mochas are made from an olde fashioned Italian hand pulled espresso machine. Dining is indoors at the cozy tables for four or outside (weather permitting) on picnic tables. Isles are stocked with premium wine (some organic), micro brewed beer, granola and healthy snack foods, fresh local organic produce, ice cream bars, pet food, flashlight batteries and toiletries. The fresh squeezed lemonade really hits the spot. Delicious hot dogs, cheese burgers and steaks are fire grilled on the outdoor patio. The outdoors dining area is a kick with giant parachute overhead, ripening fruit and tomatoes in planters amid the picnic tables adjacent the seasonal olde fashioned drive-in grill. During the summers they have fresh Arcata Bay BBQ'd oysters.The Peg House is open from sunup to sundown daily.
The shopping experience here is eclectic to say the least. Gary seeks out an inventory of unusual to hand made one-of-a-kind gifts from the practical to the curious. Redwood souveniers, static free wooden combs, guide books on bird watching, stars, flowers, insects, roadside geology and autographed copies from world authorities on mushrooms - such as Paul Stamets. Diana's award winning conserves include wild blackberry, Dawson plum, marion berry, raspberry and huckleberry - great for the bed and breakfast or home food pantry. The Peg House is an oasis from which to escape the heat of the day or stress of life. Rain or shine one of the most magnificent stands of redwood trees on the planet is just across the highway.
$-$$ PEG HOUSE
General Store, Deli - Coffee House,
Catering Events and Wedding Receptions
Outdoor Stage and Information Center
69501 Hwy 101, Leggett, CA. 95585
Telephone: (707) 925-6444