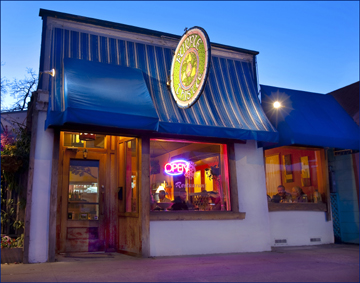 The Purple Thistle
is Closed
and is now
Adam's Restaurant
stay tuned
for a Update
50 S. Main
Willits, CA. 95490
Summertime Tues - Sun from 5pm - 10pm
Wintertime Tues - Thur 5:00 pm - 9:00 pm,
Fri, Sat & Sunday till 9pm
Cash or Checks
(707) 459-4750
There is a deeply held Celtic belief that all forms and energies of the Universe are connected and interrelated. The Purple Thistle symbolizes this. Proprietress Mona Adams and family bless their guests with an international river of cuisine, each dish artfully prepared to order from the freshest seasonal ingredients (organic wherever possible). The menu changes constantly but usually features fresh wild fish, Harris Ranch marinated and grilled New York steaks, fresh oysters prepared a variety of ways, prawns, fish or chicken, tempura dishes, Thai, Caribbean or wild mushroom pasta and daily specials they and chef Scotty Selzer and Sous Chef Chris Zevely dream up by living beneath a star studded sky in the wilds near Willits. Often there is one dish or another of yummy comfort food. Fish tacos, Thai spring rolls, wild Pacific salmon are a few popular specials. There is a selection of mineral water, juices, soy milk, and organic herbal teas and coffee.
Mother - daughter proprietors Mona and Myranda Adams are romanticists so fresh flowers, candles and melancoly music soothes the palate of evening time diners. The wine list features award winning vintages created from organically grown grapes.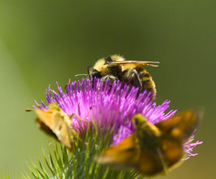 After dinner your waitperson will tempt you with a platter full of sumptuous desserts. Summertime the back patio is very popular and out back is the Shanachie Pub where friends gather over hearty libations and live open mike entertainment. In the entrance corner of the restaurant is a photo of a lush purple thistle - welcome landing to pollinating honey bees, purple beacon of living light in the meadows and namesake for a very special dining experience in Willits, California.
$$ PURPLE THISTLE
Mendocino and International Dishes
50 South Main, Willits, CA 95490
Seasonal Hours
Open Summertime Tues - Sun from 5pm - 10pm
Wintertime Tues - Thur 5:00 pm - 9:00 pm, Fri, Sat & Sunday till 9pm
Cash or Checks (707) 459-4750 Res. advised