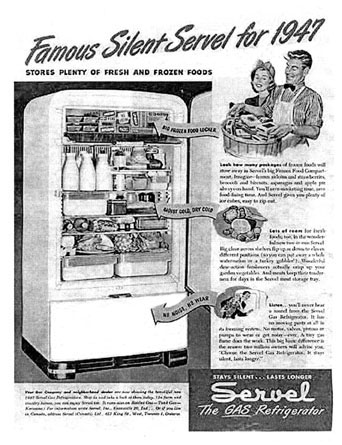 PROPANE REFRIGERATORS
- ALL TYPES -
For COUNTRY CABINS, RV's, ETC.

SERVEL, DOMETIC, ASTRAL, ETC.
Also Older Model Gas Stoves
Hi,
My name is Randy Martin and I am a Mobile Propane Repair Expert who sells and repairs used and reconditioned propane refrigerators and older propane stoves.
My jobs have taken me into the Western United States and northern Mexico. I have over 30 years experience and offer limited guarantees on reconditioned gas refrigerators and stoves. I also buy, sell and trade Dometic and Servel refrigerators for remote cabins, RV's and vacation or home get-a-ways. You may call, write or email me your questions and concerns. I specialize in remote and off-the-grid lifestyles and am descrete and courteous with lots of references. I have a mobile camper I can park on your property during repairs - or if you have a spare couch, TV and pizza I will give you the "Randy Couch Potato Special". (1950's and 1960's Mummy, Werewolf, Dracula and Frankenstein movies are a plus).
I also have warehouses full of spare parts and building supplies for fringe scientists and inventors who want to help birth a "Brave New World".
You can write Randy at:
RANDY MARTIN,
P.O. Box 331,
Valley Ford, Ca 94972
CELL Phone: (707) 230-3036
Thank You!