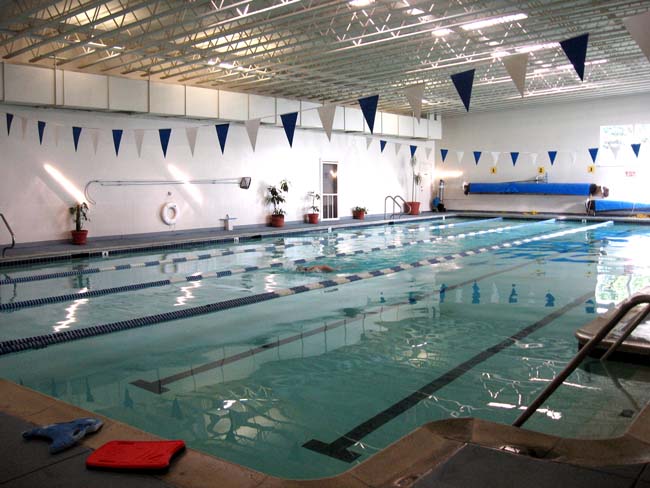 REDWOOD HEALTH CLUB
401 Cypress Street,
Fort Bragg, CA. 95437
Open Monday - Friday 5am - 9pm
Saturday 7am - 7pm
Sundays 8am - 8pm
Classes and Personal Instructors
Outdoor Tennis Courts
Indoor Swimming Pool
(707) 964-6336
Health oriented travelers always look forward to a health club that offers a drop-in rate. For $10 per person you can enjoy the new nautilus equipped weight room, exercise room, cardiovascular room with life-cycles, stairmaster, treadmill and gravitron: aerobic classes with excellent instructor/coaches, racquetball, a 75 foot swimming pool, hot tub, dry sauna/steamroom and outdoor tennis courts.
The Redwood Health Club is the largest privately owned and most established health club on Highway 1 between Mill Valley and Eureka. Originally opened in 1977 by Don Pollard and family, the health club today is operated by a spirited staff of dedicated fitness experts. According to the membership creed the staff feel that "our members are the most important people in our club - the purpose of our work - members have unique feelings and needs and are the lifeblood of our club."
What you put into life is what you get back. If you work your body constructively it gives you more energy. In the process of a good work-out we release toxins and energy blocks; especially if we learn how to stretch, and "hit the acupressure points" on our feet, hands, neck and back. The bonus is we get more out of life by being able to give more to those around us.
$-$$ REDWOOD HEALTH CLUB
Total Fitness Center, Spa & Pool
401 Cypress St., Fort Bragg, CA. 95437
(707) 964-6336 Classes, Personal Instructors, Information