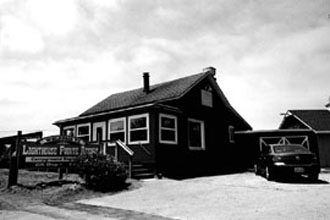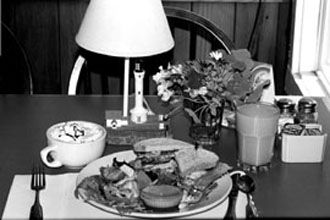 ROLLERVILLE CAFE
22900 S. Hwy 1,
Point Arena, CA 95468
(707) 882-2077
Just 2 minutes north of Point Arena at the entrance to the world famous Point Arena Lighthouse, where the cleanest air in America blows in, is the Rollerville Cafe. Rollerville was the name of a lumber mill town that was built here in the late 1800's. Proprietress Dorothy Barrett and daughter Alysia Calkins grew up here and know the area well. After working at several upscale Mendocino restaurants they learned exactly what the culinary needs of area residents and travelers were and designed their menu and the cheerful and cozy red and natural wood country Victorian dining room to fit the bill. Rollerville is open Sunday - Thursday from 8am - 2pm with breakfasts served from 8am - 11am and luncheons from 11am - 2pm. Dinners are served Friday and Saturday till 8:00 pm on the weekends. Because the restaurant owners put emphasis on "Going Green" all the fish and high quality meats are from quality local sources and the hamburgers are fresh ground and shaped here.
How does yummy servings of biscuits and gravy, omelettes with local cheeses, fresh veggies, delicious link or pork patties, apple sausage, homemade salsa, French toast, Belgian waffles and oatmeal with fresh squeezed orange juice and hot organic coffee or mochas sound? Lunch is more of a soup, salad and sandwich affair, but includes choices of Baja fish tacos, Asian slaw, New England style clam chowder, Big John's BLT or grilled Angus burgers. Dinner appetizers include zucchini sticks, or calamari. A delicious Cob salad. Dinner entrees are served with choice of Rosemary garlic mashed potatoes, baked potato or fries and homemade soup of the day or garden fresh salad greens and fresh sauteed vegetables. Hearty dishes of suateed chicken, pesto pasta with prawns or chicken, fresh wild salmon, Prime rib or New York steak are served with premium California wine (some vintages made from organically grown grapes), local micro brewed beer and fresh house made desserts. Before or after an invigorating trek to the lighthouse the Rollerville Cafe truly fits the bill. Let the flickering beacon of the historic Point Arena Lighthouse guide you to this special setting.
$-$$ ROLLERVILLE CAFE
California Comfort Food
22900 S. Hwy 1, Point Arena, CA 95468
Usually open daily / seasonal hours
Approved Checks, MC & Visa
(707) 882-2077 Sit Down or To Go