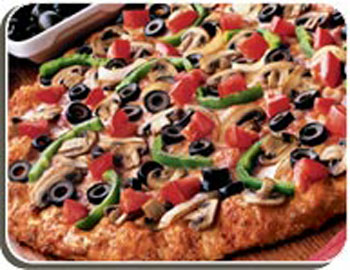 ROUND TABLE PIZZA
740 South Main
Fort Bragg, CA. 95437
Open Daily: 10am - 9pm
(707) 964-4987 Sit Down or To Go
In 1959, armed with savings of only $1,800, William R. Larson opened his first restaurant in Menlo Park, California. He wanted to create a place where families could go to relax, to experience a real sense of community, and to share a superb pizza. Bill called his little restaurant Round Table Pizza Parlor.
Today, Round Table continues to serve up great tasting pizzas that customers crave. In fact, the phrase, The Last Honest Pizza describes our commitment to quality and authenticity. We roll our dough from scratch, add our fresh blend of three cheeses, and lavishly top our pizzas with only premium meats and garden fresh vegetables. We are also known for our unique specialty pizzas. Over the last 10 years, Round Table has introduced more than 30 successful new products, and we are considered a pioneer in pizza innovation.
By serving a superb pizza and nurturing family connections in a comfortable place to gather, we can all be a part of bringing families closer together at Round Table for years to come.
$-$$ ROUND TABLE PIZZA
740 South Main, Fort Bragg, CA. 95437
Pizza, Salad Bar, Soup, Sandwiches & Italian Entrees
Open Daily: 10am - 9pm
All You Can Eat Pizza, Soup & Salad Buffet 11:30am - 2pm Monday-Friday
(707) 964-4987 Sit Down or To Go