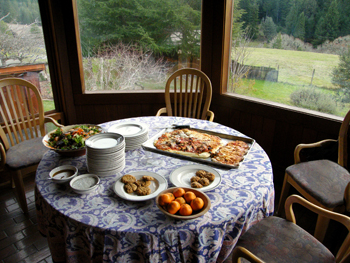 SHAMBHALA RANCH
ECO-LODGE INN
and RETREAT CENTER
This premier green, solar powered country destination is ideal for your group event. A scenic drive from the town of Mendocino, the pulse of life permeates our 140 acres of beautiful, rolling Hills. Shambhala Ranch eco-Lodge offers a secluded natural serene environment for seminars, workshops, reunions, retreats and weddings. Guests enjoy panoramic views, art, hiking in the redwoods, watchable wildlife, gardens, and a private river beach with a waterfall. Swim and canoe in our small lake or schedule a massage. Close to Montgomery Woods State Redwood Grove Come and experience nature's beauty!
$$-$$ SHAMBHALA RANCH ECO-LODGE INN and RETREAT CENTER

Located near Comptche between the towns of Mendocino and Ukiah
info@shambhalaranch.com (707) 937-3341 shambhalaranch.com Fax: (707) 937-1577

A HAVEN AWAY FROM THE CITY SURROUNDED BY NATURE
There is a sparkling year-round private river beach. Water cascades over rocks forming a small waterfall into a clear, sandy-bottom pool that is home to water striders, fish, frogs, and salamanders. Every spring, burnt-orange newts entwine in sensual mating rituals in the creek. Foxes, raccoons, and deer steal down to drink, and Yellow Warblers sing in the trees; alders, willows, bays, buckeyes, redwoods, and live oaks; that border the creek. Lawns, wedding sites, and ornamental; vegetable gardens, team with color and life. The landscaped and manicured areas with sculptures, bird feeders, and benches, instill feelings of peace and harmony. Here guests can relax with a book while butterflies and hummingbirds visit the flowers in the garden.
| | | |
| --- | --- | --- |
| Abundant Wildlife | Private River Beach | Rest and Relaxation |
Relax, Renew and Rejuvenate
This version of heaven on earth, a visionary retreat center is a model for self-sufficent lodging with solar power, hydronic heat, lush gardens, orchards, commercial kitchen, a hot tub, fireplaces and multi-media meeting room with sprung wood floors (great for yoga and dance groups). The spring fed pond takes the edge off summer heat and across the road is the cool headwaters of Big River and a small rock strewn beach. Shambhalal Ranch can accommodate up to 99 wedding and celebrations guests up to 24 overnight guests. Located only 3.5 miles from the majestic redwood grove of Montgomery Woods State Park which boasts a natural cathedral of the tallest trees on earth.
A Variety
of Massage Therapies
Facilities for Yoga and Dance


A Venue for Healthy Activies
HEALING MASSAGE
Massage helps to improve range of motion and circulation of both circulatory and lymphatic systems, strengthening the immune system. It helps shorten recovery from illnesses and injury. At a cosmetic level, massage can reduce the appearance of cellulite and improve the skin's elasticity. Psychologically, massage reduces stress, providing a calmness from which to focus on other aspects of life. Massage is not just about healing or reducing stress, it just feels good! The massage therapist at Shambhala Ranch are certificated in a variety of techniques.


CELEBRATIONS, WEDDINGS & SPECIAL EVENTS
Shambhala Ranch is a special place to gather family and friends for a Reception or Ceremony in a bucolic setting. Whether you are planning a Wedding, Bar Mitzvah, Anniversary, Private or Holiday Party, the beauty of this locale naturally inspires the intimacy that makes joyful celebration and long cherished memories. The main ceremony site, set high above the lodge, has panoramic forests views on all sides, and sweeping vistas looking out over the valley. The facilities offer flexibility of setting for your guests to gather for ceremony and reception. The Ranch is a perfect place for Family and Friends to stay, while additional guests may lodge in the delightful coastal Village of Mendocino or in Ukiah.

Shambhala Ranch Weddings