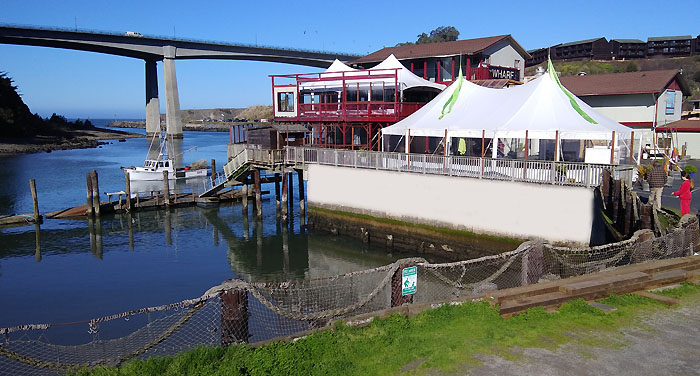 SILVER'S at the WHARF,
ANCHOR LODGE and HARBOR LITE LODGE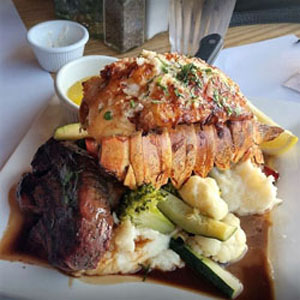 Fresh Seafood and Continental Cuisine
Riverfront Units with Oceanviews
and Hilltop Lodging
32260 N. Harbor Drive, Fort Bragg, CA 95437
Fax: (707) 964-0254
Bar & Restaurant: (707) 964-4283
Anchor Lodge 800-643-2700 or (707) 813-2276
Harbor Lite Lodge 800-643-2700 or (707) 964-0221



Silver's at the Wharf, located in the heart of Noyo Fishing Village, has been a favorite spot of locals and coastal visitors since the 1950s. Initially a coffee shop where fishermen like to gather to watch the tides rise and fall. Later to become a full service restaurant, lounge and hotel. Panoramic views of the Noyo River and the Pacific Ocean create a unique atmosphere while guests relax and enjoy a cocktail or one of the specialties of the house featuring fresh fish, steak, outstanding prime rib and many other fine menu selections. Silver's Anchor Lodge offers convenient and unique overnight accommodations. Rates are from $80 - $229 per night. Modern waterfront rooms with private decks extending over the water allow the visitor to become a part of the river life of this quaint fishing village.

The waterfront of picturesque Noyo Harbor is at your feet from one of the balcony rooms of the Harbor Lite Lodge as well as Silver's at the Wharf. As a matter of fact the water front units of Silvers extend over the Noyo River. Economy rooms are a short walk from the bar and restaurant for $80/2 per night-how smart and convenient! At the lofty Harbor Lite a variety of accommodations and meeting facilities for groups of up to 100 are available. A total of 72 rooms and suites are available with rates from $99 / 2 per night. Deluxe rooms (from $200/2) occupy the cliff. Rooms offer bath tubs, 2 queens or a king bed, color TV/DVD/HBO, microwave, coffee, refrigerators, balconies and some have fireplaces. Continental breakfast of homemade waffles, blueberry muffins, granola, fresh fruit, hot chocolate, coffee and orange juice is served at the Harbor Lite.

Dining at Silver's at the Wharf restaurant and cocktail lounge can be very memorable. Late at night it's just you and your loved one with the distant fog horn, the cry of overhead seagulls and powerful fishing vessels; their search lights penetrating the mist cruising by.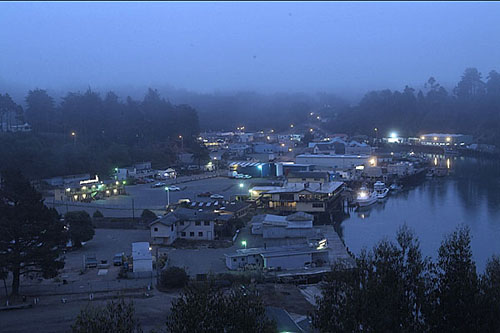 If you get too tipsy a room is a short walk away! In the upstairs restaurant fresh seafood, steaks and prime rib is served with garden fresh salads, housemade chowder or soup of the day and fresh vegetables. The wine list is comprised of award winning Mendocino County vintages; many of which are salmon friendly wines, which are wines made from organically grown grapes. With the new elevator to the spacious 2nd floor lounge and dining room, Silvers at the Wharf Restaurant is very wheel chair friendly and boasts ocean, river, harbor wildlife and fishing fleet views. The outdoor deck (seating for 36) is an especially popular dining experience. A walk around the fishing basin or out to the tip of the jetty overlooking the mouth of Noyo River is invigorating. Both the nearby beach and outdoor dining deck at Silver's are pet friendly. You can charter a boat for fishing or whale watching or rent a kayak to explore the river. The comforts and the setting can lead to a transformational experience.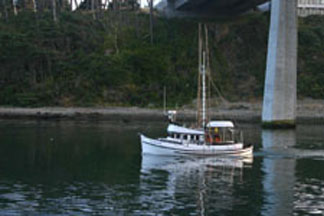 $ - $$$ SILVER'S at the WHARF,
ANCHOR LODGE and HARBOR LITE LODGE
Fresh Seafood and Continental Cuisine
Riverfront Units with Oceanviews
and Hilltop Lodging
32260 N. Harbor Drive, Fort Bragg, CA 95437
Fax: (707) 964-0254
Bar & Restaurant: (707) 964-4283