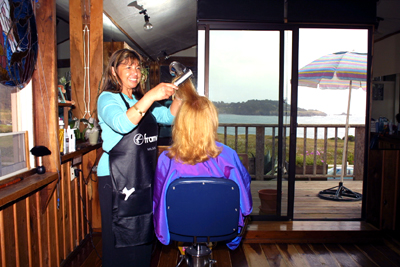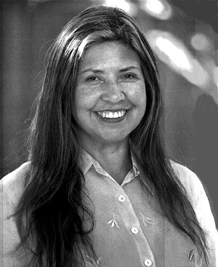 SOUTHERN EXPOSURE
45090 Main Street,
Mendocino, CA. 95460
(707) 937-4436
Call For Seasonal Hours
SOUTHERN EXPOSURE SALON and DAY SPA
"Welcome to my outdoor deck and the cleanest air in America," states Sally Stewart. The guest is none other than Doctor Elson Haas, author of the million best seller "Staying Healthy With the Seasons." Sally attracts the wise as well as the inquisitive to her wonderful salon and day spa. She graduated from the Bauman College of Nutrition with honors. Her 25 years has postured her to network wellness events and a dietary conscious future for Mendocino.
Southern Exposure is located on the 2nd floor of a historic building next to the Mendocino Hotel and offers the best ocean and bay views on the coast to those having their hair styled, nails peticured, shoulders massaged or skin cleansed. Here you are greeted by a team of accomplished and educated professionals whose focus is to pamper and create an experience of complete comfort and relaxation. A private facial room, massage room and pedicure room with oceanview are relaxing and cozy. The staff blends traditional and alternative healing techniques and have a strong background in integrative therapies, ranging from deep tissue incorporating acupressure, diet, nutrition, aromatherapy, cleansing and detox of the bodies largest organ - the skin. Socially conscious and vivacious Sally and her staff have a clear focus on meeting your individual needs.
$$ SOUTHERN EXPOSURE
45090 Main Street, Mendocino, CA. 95460
Oceanview Salon & Day Spa
(707) 937-4436 Appointments and Suggestions