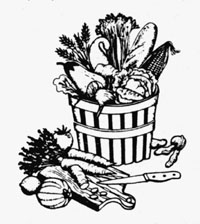 TOTE FETE
Delicatessen & Catering
10450 Lansing St.,
Mendocino, Ca. 95460
(707) 937-3383 Sit down & to go.
Wi-Fi Is Available From Next Door
From the corner windows of Tote Fete Deli in downtown Mendocino you have unobstructed views of the crashing breakers in Mendocino Cove where Big River surges into the sea. The show is endless as are the creations that Sunny and Kim Koo serve to visitors and locals in their tiny gourmet deli. Naturally Tote Fete is a great place to create a picnic lunch for that wine tasting tour or adventure along the cliffs. Breakfast, lunch, picnic goodies or snack foods are served from $5 on up. Open daily from 7:30am - 6pm winters and 7pm summers. Tote Fete specializes in hot, cold, vegetarian and meat sandwiches including fresh shrimp salad with cucumbers on garlic bread and when available the wild Alaskan salmon salad with asparagus. "We do 13 different gourmet sandwiches," states Kim. Egg salad starts at $5.50 and the California club or shrimp avacodo is $7.50. A variety of refreshing salads are served including spinach, fresh garden greens and pear & pecan with blue cheese and raspberry chipotle plus fresh made potatoe or macoroni salads. Mexican entrees are served such as enchilada, quesadillas, burrito and fajata. Time permitting, visitor's questions about the area are answered. In the full service deli chilled juices, fresh brewed regular coffee. Starting the day here can put a smile on your face.
$-$$ TOTE FETE
Delicatessen & Catering 10450 Lansing St., Mendocino, Ca. 95460
Cash, MC & Visa and Local Checks Open Daily 7:30am - 7:00pm Summers till 6pm Winters
(707) 937-3383 Sit down & to go.