UPPER CRUST PIZZA
39331 South Highway One,
Gualala, CA. 95445
(707) 884-1324 Sit Down Or To Go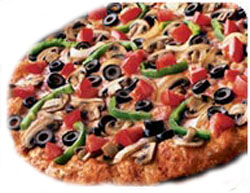 Small coastal towns with good pizza parlors make big hits with north coast travelers. The Upper Crust Pizza with oceanviews out the front picture window is one such destination. The menu is divided into Specialties-of-the-House, chicken and vegetarian pizzas. A delicious homemade sourdough pizza crust topped with a choice of 23 fresh high quality ingredients will put a smile on your face. Fresh garden salads, sodas, bottled water, root beer and fruit juices are also served. The Upper Crust Pizza is open year-round from 4pm and stays open until 8pm or 9pm, depending on the daily appetite of diners. There is indoor/ outdoor oceanview dining or orders to go. Popular proprietors Al and Sharon and their friendly staff have been serving delicious pizzas to Gualala residents and visitors for over 20 years.
$-$$ UPPER CRUST PIZZA
Homemade Pizza, Beer, Wine & Salads Cash & Approved Checks Accepted
39331 S. Hwy 1, Gualala, CA. 95445 (707) 884-1324 Sit Down or Orders to go