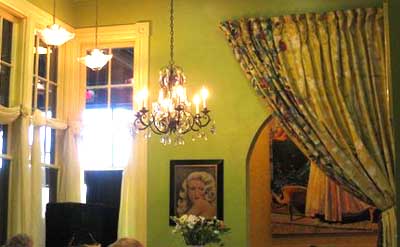 COFFEE CATZ
COFFEE HOUSE n CAFE BAKERY,
Delicious Homemade Gourmet Cuisine
WiFi and Live Entertainment,
Lectures from Science to Relationships
6791 Sebastopol Ave.,
Sebastopol. CA. 95472
(707) 829-6600
Open Daily 8am - 8pm.
In-House ATM, Local
& Travelers Checks
The "Purrrfect Cup of Coffee" where patrons truly feel honored and free to meet over personal or business matters of the heart and mind.
Coffee Catz offers the most friendly and homey community atmosphere of all the coffee houses in Sonoma County. Proprietress Debby Meagher has grown a very loyal and eclectic following of patrons from not only Sebastopol and the west county, but from the entire north bay area! Her secret ingredients are personal enthusiasm, high standards in the creation of a whimsical and elegant decor where patrons truly feel honored and free to meet over personal or business matters of the heart and mind.
The environment at Coffee Catz includes an open air flower garden and patio with "pet friendly" sturdy iron tables and chairs, a spacious gallery living room interior with three dining areas, 12 foot ceilings, chandeliers, plush couches, tables and chairs, wireless internet, ATM, and a grand piano by the indoor stage. Debby has created the perfect setting for lively social events, open mike, parties and weddings. Bouquets of fresh cut flowers come from the gardens of her friends. One long time patron described Coffee Catz by stating, "Imagine the little girl in Alice in Wonderland who fell down the rabbit hole and ended up in the Queen's parlor."
At the exhibition kitchen patrons can watch homemade fresh food being made at very fair prices and then dine in the classy indoor dining rooms or on the outside patio. The large hand painted menu features "Hot Catz" brews (coffee, chai & herbal tea), specialty drinks, cool classics and specialty desserts plus "Good Morning" breakfast entrees, Catz treats and eats and daily specials. Favorite breakfasts include smoked salmon and eggs with onions and capers, Bev's breakfast muffin with steamed eggs, tomatoes, cheese, sour cream, scallions and avocado with a dollop of salsa, or nutritious oat meal with peaches and berries. The award winning turkey chili with corn muffins is fabulous. Sandwiches include albacore tuna and the Catz super veggie with mayo, mustard, tomato, cucumber, roasted or raw red bell pepper, cheddar cheese or cream cheese and lettuce. If you've got the blues then try the green tea freeze with blackberries.
The alcohol free open-mike nights are a real treat. The audience enjoys talented to amateur performers who exhibit freedom of speech as the elegant to the scruffy take the stage by the grand piano and speak, sing and dance to the beat of their heart. Bay Area Reviewers state, "open mic is pretty chilled out and attended by decent players. The end of the night is often an open jam with the musicians that have stuck around while the staff sweeps the floor and finishes closing. Attached to the Sebastopol Inn, the Coffee Catz open mic usually draws in a number of talented regulars." Sign up at Coffee Catz is at 5:30pm with average performance length from 6pm to 10pm.
Be sure to inquire about the monthly calendar of events. One of the more popular gatherings is SCIENCE BLUZZ. Founder Daniel states that the Science Buzz Cafe is dedicated to the night science tradition. It is for professional scientists who do it for money and for the amateurs who do it for love. Professionals have science for their spouses. The amateurs have it for their mistresses. The Science Buzz Cafe honors both species of lover.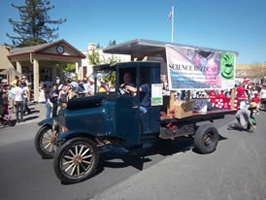 Bringing SCIENCE and CURIOSITY back into culture is their mission and - Coffee Catz is the place where for the price of a cup of coffee or a bowl of soup, people can meet to discuss the latest ideas of science and technology which are changing our lives. One of their "Brain Storming Sessions" created the vision for a solar powered 1927 Motel T Ford car. Nearly 2 years in the making with the dedication of a small team and large community, this 1927 Ford made its debut in the Apple Blossom Parade in Sebastopol, California on April 21st, 2012.
Debbie has a policy to help make a visit to one of the Coffee Catz speaker nites inspirational for all age groups. One such visitor is Dr. Virgil Beasley who enjoys a good cup of organic coffee while addressing some of the issues facing aging "Baby Boomers". His website "Living Well 60 Plus" helps bring meaning and inspiration to our aging population.
Next door is the upscale Sebastopol Inn where you can spend the night with swimming pool and jacuzzi or be pampered in the Wellness Center and Spa next door. Visitors will soon realize how elegantly dreams can materialize after meeting Debby and her many friends at Coffee Catz.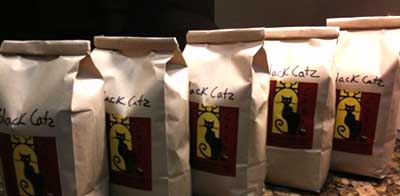 $-$$ COFFEE CATZ
Coffee House, Bakery/Cafe, WiFi,
Live Entertainment, Lectures, and
Delicious Homemade Gourmet Cuisine
Open Daily 8am - 8pm.
In-House ATM, Local & Travelers Checks
6791 Sebastopol Ave., Sebastopol. CA. 95472
(707) 829-6600