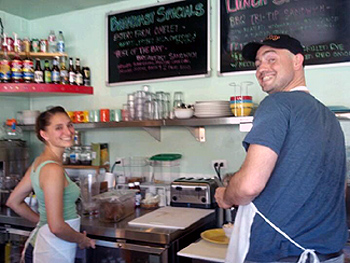 ESTERO CAFE
14450 Hwy 1,
Valley Ford, CA 94972
Open Daily from 8:30am - 3pm
(707) 876-1974
Located in the tiny community of Valley Ford is the cozy Estero Cafe. Here some of the cleanest air in America blows in. To the west is a small country lane that rolls over the Estero Americana and on to Dillon Beach. California's egg basket, Petaluma is to the east and to the north is tiny Bodega and the fishing village of Bodega Bay. Proprietress Ariana Strozei and daughter Lesley Smith are horse lovers who grew up here and know the area well. They designed their menu and the cheerful and cozy natural country dining room to fit the bill. The Estero Cafe is open daily from 8:30am - 3pm with breakfast and lunch served. Because the restaurant owners put emphasis on "Going Green" all the fish and high quality meats are from quality local sources and the hamburgers are fresh ground and shaped here.
How does yummy servings of biscuits and gravy, omelettes with local cheeses, fresh veggies, delicious link or pork patties, apple sausage, homemade salsa, French toast, Belgian waffles and oatmeal with fresh squeezed orange juice and hot organic coffee or mochas sound? Lunch is more of a soup, salad and sandwich affair, but includes choices of Baja fish tacos, Asian slaw, New England style clam chowder, Big John's BLT or grilled Angus burgers. Local micro brewed beer and homemade house desserts are also served Before or after an invigorating trek of beach combing and dog walking at nearby Dillon Beach, bird watching at Salmon Creek, surfing the Sonoma Coast or a visit to a real working fishing village at Bodega Bay, the Estero Cafe truly fits the bill.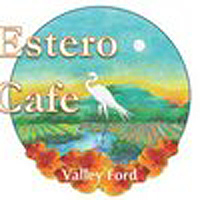 $-$$ ESTERO CAFE
California Comfort Food
14450 Hwy 1, Valley Ford, CA 94972
Open Daily from 8:30am - 3pm
Approved Checks, MC & Visa
(707) 882-2077 Sit Down or To Go