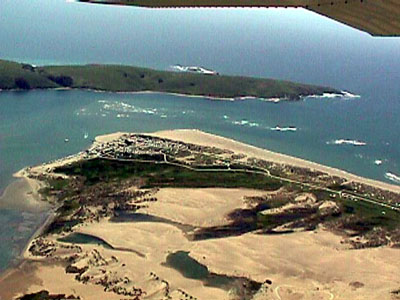 LAWSON'S LANDING
CAMPGROUND, FISHING & BOATING RESORT
Box 67, 137 Marine View Drive,
Dillon Beach, CA. 94929
(707) 878-2443
Email: Lawsonslanding@gmail.com
Located at the mouth of Tomales Bay on the northwest shoreline is Lawson's Landing. Campers and RVer's by the hundreds find this 1,000 acre ranch just what the doctor ordered. During summer and fall Lawson's Landing is a bee-hive of activity, but with the first winter rains the campground is reduced to a whisper in the wind. People come here to fish, swim, surf, kayak, beachcomb, count birds and the stars. Fishing and crabbing is often excellent. Clam diggers and abalone divers often get their legal catch, and rock and surf fishermen reel them in. The Lawson family encourage travelers to come out during the quiet tilmes of the year for some of the best bird and star watching on the north coast. Pier fishing for perch and smelt and crabbing the wharf (daylight hours only) is fun. Rock fish and salmon fishing is nearby. In the boat house campers can purchase bait (bait shop closed Dec & Jan) tackle, weights, oil, ice and firewood. Open year around.
$-$$ LAWSON'S LANDING
Camping, RV Sites, Clamming & Fishing
Box 67, 137 Marine View Drive, Dillon Beach, 94929
Major Credit Cards, Approved Checks & Cash
(707) 878-2443
Email: Lawsonslanding@gmail.com
VINTAGE SCARY MOVIES, BIRD WATCHING SITES
plus the WEATHER, TIDES, MOON CYCLES and STARWATCHING