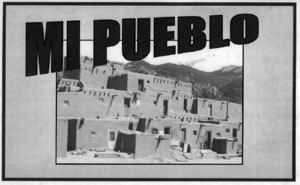 MI PUEBLO MEXICAN RESTAURANTS
Authentic Mexican Cuisine
800 Petaluma Blvd. N.
Petaluma, CA. 94952
(707) 762-8192
In Novato at 905 Grant Ave.,
(415) 878-0122
Of the dozen plus Mexican restaurants in Petaluma, Taqueria Mi Pueblo is one of the most popular. Owned by the Beatriz family, the restaurant is often packed by families enjoying the delicious salsa and chips and large platters of chili rellenos, tacos, and enchiladas. Prices are reasonable, the service is fast and courteous with lots of choices of appetizers, burritos, seafood, steak & meats, soups, side orders, breakfast items, desserts and small and large combos. Healthy style dishes (no meat or dairy) tacos, tostadas, burritos, steamed veggies with rice and beans and dinner salads are also available. Super burritos include rice, beans, cheese sour cream, guacamole and choice of chicken, shredded or ground beef or pork with sauce, while the Vegetariano Mas has lettuce, cheese, sour cream, guacamole, broccoli, cauliflower and carrots. A few signature dishes are Siete Mares (seafood soup) with seven seafood items, potatoes and carrots or BBQ'd steak Arrachera with enchiladas, rice and beans. David Beatriz and family also have Taqueria Mi Pueblo in Novato just a few miles south of Petaluma in fabulous Marin County.
$-$$ MI PUEBLO
Authentic Mexican Cuisine with Imported & Domestic Beer and Wine,
800 Petaluma Blvd. N., Petaluma, CA. 94952 Sit Down or To Go (707) 762-8192
Lunch and Dinner from 10:00am - 9:30pm daily MC& Visa.
In Novato at 905 Grant Ave., (415) 878-0122