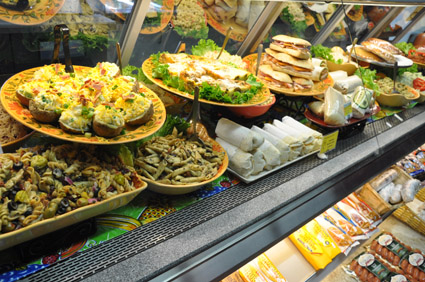 PELICAN PLAZA MARKET,
DELICATESSAN, WINE and CHEESE SHOP
Box 966, 1400 Hwy 1,
Bodega Bay, CA. 94923
Open 7am - 10pm Summer
Wintertime Hours from 7am
(707) 875-2522
Major Credit Cards, ATM & Lotto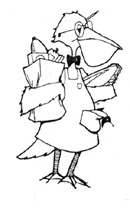 The most complete shopping center plaza (built in 1983) on the Sonoma County coastline occupies a eucalyptus topped hillside overlooking the Bodega Bay fishing fleet. Built like a U-shaped fort, sheltering cars and tourists from the westerly prevailing winds and winter rains, the plaza is home for the, office supply center with copy & fax, surf shop, the Pelican Plaza Grocery and Deli, a new Veterinarian Office and the elegant Sandpiper Restaurant. The store and deli are across Highway 1 from Kites and Candy and the Boat House at the north end of town.
Vacationers will be surprized that this little store has such a huge gourmet inventory of foods to choose from - foods you would normally find in a big city environment can be found right here in Bodega Bay. You can get a fast cup of morning coffee to go or take a long tour along shopping isles overflowing with goodies. Indeed, waves of coffee are served each morning from 7:00am to wake Bodega Bay up and help get the town on its feet. The staff make the best sandwiches in town because they use the highest quality meats and breads available. From the deli section you can purchase a freshly made sandwich with choice of 2 dozen ingredients, homemade macaroni, tuna or potato salad. Two different hot soups are available daily. Pelican Plaza store is large as stores go on the coast. Customers state "They have the best wine and cheese selection in Bodega Bay as well as the largest selection of imported and micro-brewed beers." You'll find a good selection of canned and packaged produce, dairy products, meat, and the largest selection of fresh fruits & vegetables on the coast. There is also firewood, some hardware, cooking utinsels, rope, books, magazines and if you are feeling lucky - Lotto. The grocery & deli is open from 7:00am - 10pm during the season with shorter hours off-season. Hours change seasonally.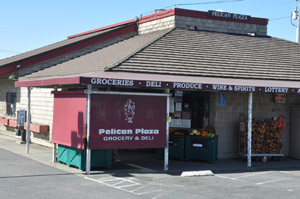 $ PELICAN PLAZA GROCERY & DELI
Box 966, 1400 Hwy 1, Bodega Bay, CA. 94923
Full Service Grocery Store & Deli, ATM & LOTTO
(707) 875-2522
Here is Today's Weather, Today's Tide Chart, and Today's Nightime Star Chart. Coastal conditions and web cams can be viewed here: at the Web Cam overlooking Horshoe Cove. NEVER Turn Your Back on the Ocean . . . and if you feel an Earthquake you have 2 MINUTES to get a minimum of 100 feet high . . . immediately drive up Bay Flat Road. The entrance is located on the right side (east) of State Highway 1 less than 1 mile north of Pelican Plaza Market. Here is the Tsunami Early Warning System.Enjoy this exceptional "Mom n Pop" Business and travel with Love in your Heart.