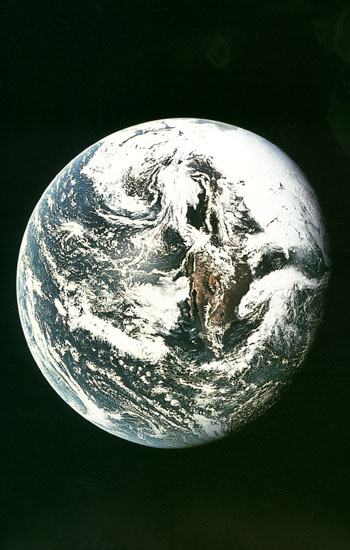 EMPOWERING THE CLERK
With Recycled Silver Coins - Also Known As "Green" Silver
Clerks and cashiers watching for silver coins moving through a cash register can net an extra $20 to $200 a month without hurting the relationship they have with their employer or customers. Indeed they can even share in the prosperity creating win-win relationships, building trust and good will. Spotting or "listening" for the distinct look or sound of silver dimes, nickels, quarters, half and silver dollars is an art. Some have fine tuned instincts and this on-the-job-hunt leading to more prosperity is fun and exciting.
Indeed, I have seen the adrenaline rush of some coin dealers as a new and inexperienced person with a few books of coins their parents or grandparents left them, shows up to find out how much they are worth. The coin dealer's hands and body can even start to shake energetically as they look through the bags and coin books for rare and extra fine or uncirculated dates. The air becomes electrified like a Tesla coil. You can feel the adrenalin of the "chase and hunt" in the air. The pounce!, the Victory!, with both making out for the better!
Coins are a form of stored energy and each coin "resonates at a certain frequency". Some are good and some are toxic and can even cause sensitive people to become sick or "get the shakes". Some money has blood and drug residue on it and needs to be spiritually cleaned. Sageing and prayer can accomplish this. There is nothing like clean and spiritually blessed money. This is the best form of money. Currency can take on healing and medicinal value and can be used to promote a healthy and loving life. Indeed the "Blue Bloods" of the 1600s never got the plague because they ate on silverware. The reason - "colloidal silver" being absorbed by their tongues into their blood stream where it killed fungus, viruses and bacteria. The poor died because they ate with regular cookware. Have you heard the saying "every cloud has a silver lining"? Think about the filth and bacteria on paper money and non-silver coins being circulated from person to person. The ancient Romans put a silver coin in milk to preserve it. It killed the bacteria. Handling silver coins has a medicinal benefit - look at your finger tips. Silver is a much cleaner form of currency. It truly is REAL MONEY. Always remember to share and tithe your wealth with the less fortunate. I wish you health, blessings and a safe and wonderful prosperity.
There are a variety of companies and individuals that are selling high grade colloidal silver and Nano Silver in mouth wash, spray or gel form. To purchase "Sovereign Silver" you can visit the Sovereign Silver Review Page

REAL MONEY FOR REAL PEOPLE
Copper, nickel, steel, silver and gold are all prescious metals our beloved Mother Earth provides for us. These earthly commodities are sacred and limited and the energy and opportunities created by acquiring and spending coins needs to be firmly rooted in ethics and common sense. Currency can be used to buy us clean air and water as well as farm fresh GMO free organic food, appropriate shelter, clothing and alternative energy and transportation. It cannot buy us love. That can only be given with true love coming unconditionally from the heart. Don't be dazzled or confused by false promises, illusion or shallow beauty. Stay away from attractive, but shallow "gold brickers". Look at the pain and suffering the stock market, "banksters", realestate speculaters and relationships based on the ravenous and insane needs of conspicuous consumption have caused. Embrace the concept of "Real Money for Real People". NEVER FORGET the impact your buying power has on the life around you - ALL FORMS OF LIFE! With each dollar you acquire and spend you have the power to promote or destroy life. Choose wisely for each small act you commit shortens or lengthens your life by seconds, minutes, hours and days. Enough said.
THE MOST COMMON AMERICAN COINS CASHIERS WILL ENCOUNTER:
| | |
| --- | --- |
| 1948-1961 Franklin Half Dollars 90% Silver | 1964 Kennedy 90% Silver Half Dollar or the 1965 - 1969 Kennedy 40% Silver Half Dollar |
Mercury Dimes 1916-1945, Roosevelt Dimes 1946-1964, WWII Jefferson Silver Nickels 1942-1945, Washington Quarters 1932-1964, Walking Liberty Half Dollars 1916-1947

Above left to right 1944S BAU & 1945S BAU Mercury Dimes, 1964 EF & 1962D EF Roosevelt Dimes, 1945S & 1944S Jefferson Nickels, 1960D BAU & 1961 AU Washington Quarters and 1944D EF & 1944S EF Walking Liberty Half Dollars.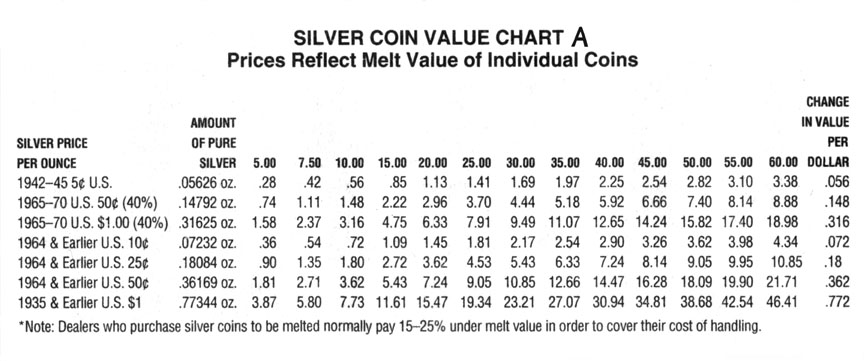 HERE IS TODAYS SILVER SPOT PRICE PER OUNCE
HERE IS AN EXAMPLE OF A SIMPLE TRANSACTION
Say you found or have 4 silver Washington quarters and 2 silver half dollars. Lets say today's price of silver
is at $18 per ounce. Now, look at Chart A. Each silver Washington quarter would be worth about $3.00 and
each silver half dollar would be worth about $6.00. If we multiply 4 X $3.00 = $12.00 and 2 X $6.00 = $12.00.
Thats a total silver value of $24.00. A coin dealer would give you a little less than that and a private collector
would propably give you more. There is also a numismatic (antique or rare) value which could be added
to each coin. All terms are negotiable and you need a willing seller and a willing buyer. Remember:
Strong trees bend in the wind and weak trees snap! Be realistic, give a little and you might get alot.
CASHING IN: Where can I sell the coins I have found?
1. COIN DEALERS:
NEVER CLEAN YOUR COINS! They are more valuable to a dealer if left just the way you found them.
If you are in a hurry to sell your coins see the "Contact" information below.
All of these dealers will pay you the daily "spot price of silver" as well as pay you more for the numismatic value
of any rare coins you bring to them. Coins that are rare or Very Fine (VF), Extra Fine (EF), Almost Uncirculated
(AU), or Uncirculated (UNC) - Brillant Uncirculated (BAU) or Proofs (PR) are worth more. In some cases much
more. NOTE the silver currency chart showing silver spot prices and value of coin denominations (CHART A).
Coin dealers will be happy to "appraise" the coin value and make you a offer, but is the offer fair and realistic?
Don't be afraid to get a second or third opinion. Remember if you found the coin in change and just paid for it's
numeric value, you are making out. Don't be unrealistic - this only sabotages your potential. There is a learning
curve and trade secrets to coin collecting.
HERE ARE A FEW COIN COLLECTING TRADE SECRETS:
1. Silver prices usually run in a 30 year cycle. As of May of 2011 silver went to a high of $48 per ounce.
It has been fluctuating between $25 and $35 since. If you are planning to live another 30 years - you can afford
to hold onto your coins. If not - SELL NOW!

2. Because so many people have happily cashed in their silver coins there is a large quantity of AU and BAU
silver dimes, quarters and halves in the "JUNK SILVER" trays. When silver goes over $35 per ounce you will
even find silver PROOF coins. These are more valuable coins, which you can pick up at junk silver prices.
If you are a collector your coin books will look bright and valuable.

3. Some coin shops and dealers have "CULL" silver dollar trays. These are beat up, painted over or more
common dates. However, some of these might be XF - AU grade. Coin dealers who sort through thousands of
coins each week can get tired and cranky - and slip up if distracted. They can also get toxic metal poisoning
which can "fry their nerves". They need to use gloves or do a heavy metal cleanse. (Copper pennies can be
especially toxic). I have even discovered CC (Carson City) silver dollars in these trays as well as other
semi rare dates.

4. In my opinion your best investment is silver. WHY? Because silver should have a classic 15 to 1 ratio
with gold. In other words if gold is $1,500 per ounce, then silver should be $100 per ounce. The price of
sliver is being held down by gold market investors. Its an old story - just watch the "Wizard of Oz" and look
for the hidden meanings. Someday soon it might bust loose and when it does a lot of silver holders are going
to be very happy.

5. In these times the real value is in commodities - especially food and fuel. You can't eat your silver coins.
Why not invest some of that silver into a food bank for you and your loved ones and neighbors - and don't leave
out the pets. I wish you happy silver coin hunting.

NEW FEATURE:
Click Below To View CONSIGNMENT COINS FROM PRIVATE PARTIES
RECOMMENDED COIN DEALERS
JACK H. BEYMER RARE COINS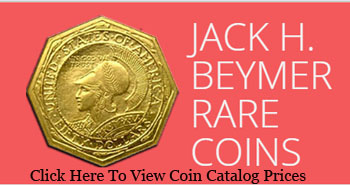 BIG OAK SHOPPING PLAZA
2490 W. 3rd St.
Santa Rosa, CA. 95401
(707) 544-1621
Toll Free: (800) 635-6040
Fax: (707) 575-5304
Open: 9am - 5pm Monday - Friday
After Hours (707) 544-1681
Member: Professional Numismatics Guild (PNG)
BRUCE BRAGA RARE COINS and COLLECTIBLES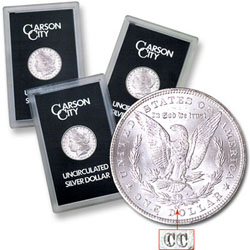 Large Selection of Carson City (CC) Gold and Silver Coins
P.O. Box 652
Sloughhouse, CA. 95683-0652
(408) 839-1883
Fax: (916) 354-1592
Member: American Numismatic Association (ANA)
DON RINKOR RARE COINS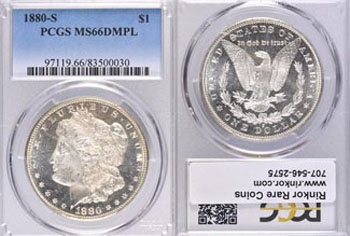 Specializing in DMPL Dollars (mirror proof like coins),
Silver and Gold bullion, Proof and Regular United States
type coins, Guns and Fire Proof Safes
2600 Mendocino Ave,
Santa Rosa, CA 95403
(707) 546-2575
Open: 9am -4:30pm Mon - Sat
Member: Professional Numismatics Guild (PNG)
SAN RAFAEL RARE COIN COMPANY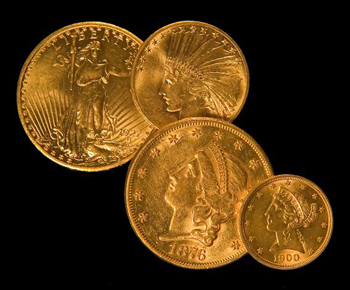 Rare Coins, Bank Notes,
Gold, Silver and Platinum Jewelry, and Precious Metals
Roger Tobin
1219 Fourth Street
P.O. Box 150959
San Rafael, CA 94915
Phone: (415) 457-2646
Fax: (415) 457-8766
Email: srrc@pacbell.net
Open Mon - Fri from 11am - 4pm
After Hours by appoiintment
Member: ANA, PCGS, ICG, NGC, NCS Accredited
SIERRA GOLD & COIN - JOHN ENGELHARDT - GRASS VALLEY - GOLD COUNTRY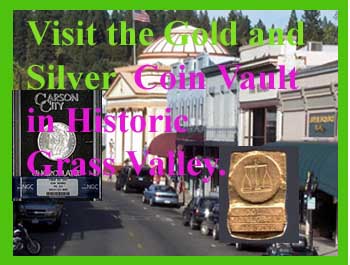 We Buy - Bullion Gold & Silver, Placer & Nuggets, Coins & Collections, Jewelry, Estate - Gold & Silver.
We Sell - Bullion Gold & Silver (Special Prices on Quantity Purchases), Placer & Nuggets, Coins & Supplies.
Appraisals in Our Store or at Your Residence
203 West Main Street
Grass Valley, CA. 95945
Open: 9am - 5pm Mon - Fri, 10am - 4pm Sat
Phone: (530) 272-1100
Fax: (530) 272-1130
EBAY User ID SGANDCOIN
info@sierragoldandcoins.com
Member: ANA, CONECA and Redwood Empire Coin Club
COIN SHOP
SINCE 1980
Full Service - BUY & SELL
U.S. Coins, Appraisals, Precious Metals,
Gold and Silver, Jewelry and Sterling Silverware
Owner David Christensen
303 A Talmadge Road
Ukiah, CA 95482
Open Monday - Thursday 10am - 4pm
After Hours by Appointment
Cash, Approved Check, Money Order or Credit Cards
Phone: (707) 468-0640
ERRORS and MORE - JIM CAULEY - SACRAMENTO - GOLD COUNTRY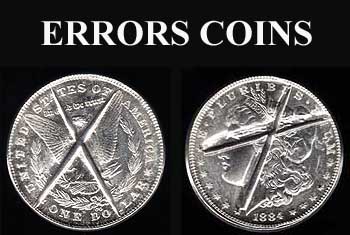 Authentication and Appraisals on ERRORS.
United States and Foreign Coins,
also Buying and Selling Gold and Silver Coins
CASH PAID - WILL TRAVEL
Phone: (916) 212-6752
EBAY User ID RECCLM50
kjcauley@netzero.com
Member: CONECA and
Redwood Empire Coin Club
Webmaster: Robert W. Matson (707) 522-0550
or Email: Robert@northofsf.com
Two Decades Experience With US Silver Coins 1878 - 1964
Lifetime Member #95: Redwood Empire Coin Club

JENNYS INTRODUCTION to COIN COLLECTING
The Next Generation of Coin Collectors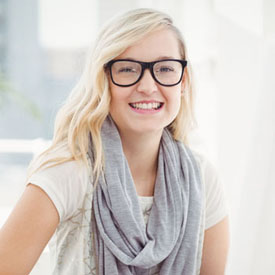 Here is Jennys comprehensive 4,500 word beginner's
guide to coin collecting. She studied history at Harvard,
and states that Anything that let's me reconnect with the
past is right up my street!