| | | | | | |
| --- | --- | --- | --- | --- | --- |
| INTUITION | SEE | HEAR | SMELL | TOUCH | TASTE |
SHOPPING WITH YOUR SIX SENSES
A Mendocino Walkabout Where Beauty and Spirit Manifest Before Your Eyes
Long before you will see it or hear it you will feel it. Your intuition is your most powerful shopping tool. Connect your decisions to your heart and you can't go wrong. You will have solved one of the most challenging problems in our society - that of wastful, purposeless gifts that only bandage a lack or missing part of anothers life. Indeed the emotional memory in the heart muscle far exceeds that of the brain. So use your intuition on your walkabout. It will tell you when to turn left or right or go straight ahead - long before you see, hear, smell, touch or taste what you are looking for.
There is a term called geomancy which translates to divination by means of lines and figures. It comes from geomagnetism which is the study of geomagnetic fields. There are subtle and invisible reasons why communities are built at certain locations other than being beside creeks, rivers and animal migration paths. There are meridian lines of energy in the earth. Dowsers are familiar with these energy fields and occasionally insightful shop owners whose purpose is to promote beauty, spirit and awareness set up shop above them. Such is the case in the heart of Mendocino, setting the stage for a fabulous walk-about in color, smell, taste and sound. Your guides are waiting.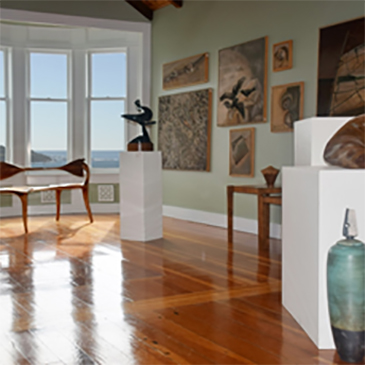 If the gap between heaven and earth can be bridged by the arts, then the stairway of memories between the two worlds would most surely be at destinations like the interior decorator showroom at Highlight Gallery. We need places to remind us of our inner greatness where we can purchase totems to embrace and take home. A stroll through the Gallery on Main Street will reveal works of art that will pull on your heart strings. Just down the street is Out of This World where you can browse for starwatching equipment, telescopes and spotter scopes, touch gemstones and crystals, read books and listen to music to learn how to heal, meditate and increase your frequency. The Gallery Bookstore and Mendocino Twist are just to the west. Indigo, one of Mendocino's newest botiques is a must see located at 321 Kasten Street, just up from the Gallery Bookshop. See below for an expanded write-up on Indigo. Several other shops offer visitors a peek at Mendocino County art which is displayed on beamed and red brick walls. There are scads of prints, posters and frames which can be mounted to your taste.
A real treat that can be enjoyed is at Perfume Mendo and Audio Noveau with its Audio-Video Art. At Audio Noveau there are exhibits of rare motion picture memorabilia. Keith, who owns the shop, has bridged the awareness gap between understanding the natural environment of our hunter forager ancestors versus the high tech environment of today's modern human being. Physically we haven't changed that much, however; mentally we are able to handle a lot more than our ancestors ever could have then. Lifetimes and worlds are condensed in minutes - even seconds. No primitive Cromagnon could ever stay in his body if set in front of such futuristic information and stimulus. Think about it and you'll begin to see why so many of us feel overwhelmed sometimes. On the plus side, color-sound therapy of inspiring images and uplifting music opens the heart and mind, helping us to evolve and heal. At the demonstration studio at Audio Noveau you will be awed and inspired as waves of images, vibrant colors and soothing music surround your being.
$-$$$ INDIGO
Indigo is a cozy well organized boutique a stones throw from Main Street Mendocino and sweeping ocean views. Spirited owner Justine Olivia Battersby has a focus and direction to create a better world by what she consciously sells in her shop. Natural fiber clothing, body and wellness products including plant based essential oils, cashmere and alpaca, wool blankets, organic baby clothing and cute and kind toy stuffy animals. Prices range from an inspiring $2 card to one of a kind Jade or redwood burl sculptures ($120 - $700), cashmere pieces ($300 - $450) or the legendary hand dyed Susan Bodine Mendocino sheep wool sweaters ($500). Now Justine has an inspiring showroom to exhibit her thrown and altered Raku pots ($75 - $150) and original mixed media paintings. Smell the Palo Santo spirit wood, touch the cashmere, alpaca and Merino wool, hear the quartz chakra singing bowls and Teseract crome plated drum (made from a recycled propane tank), see the array of inspirational colorful gifts here in this tiny shop that makes you feel good - Indigo.
$-$$$ INDIGO Organic clothing, cashmere and wool sweaters, blankets, art, sculpture and inspirational gifts.
Open 11am - 5:30 pm daily, but Tuesday, Major Credit Cards & Cash (707) 397-1616