BODEGA BAY, HARBOR and COMMUNITY
The Bodega Bay of today looks much different than the Bodega Bay of 200 years ago. Runoff from development around its edges fills it in each spring. Consequently, dredging is required from time to time. The protected sand spit to the south is a county park and home to the U.S Coast Guard. An earthquake generating a tidal wave of 30 feet or more would lick the beaches clean of visitors and their recreational vehicles, but the crisp clean air,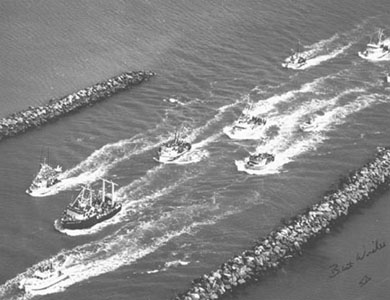 breaking surf and open beach make it worth the risk. Why live in fear of such a rare event? Why not go into town and celebrate at one of the fine restaurants Bodega Bay is famous for! Yes! That's a good idea! Check out the nautical shops, explore the art galleries, heal in one of the local hot tubs or under the healing hands of a massage therapist and spend the evening under the stars. Horseback riding is available just north of town and sport fishermen will take you out for whale, bird or shark watching. A visit to the Bodega Bay Marine Lab will reveal more than a few imprisoned salmon and red snapper swishing their tails in aquatic wall tanks. In back are baby lobsters who fearfully raise their claws in response to the silhouette of a human towering above them. What to eat? Who eats who? A visit to the "Lab" will help you answer these timeless questions since the first fish slithered up on shore and asked the same question.
Here is Today's Weather, Today's Tide Chart, and Today's Nightime Star Chart. Coastal conditions and web cams can be viewed here: at the Web Cam overlooking Horshoe Cove. NEVER Turn Your Back on the Ocean . . . and if you feel an Earthquake you have 2 MINUTES to get a minimum of 100 feet high . . . immediately drive up Bay Flat Road. Here is the Tsunami Early Warning System.
Here is the Tsunami RUN-UP Chart for the Sonoma Coast
Enjoy the "Mom & Pop" business's linked to and in some cases reviewed below. Travel with love and gratitude in your heart.
CATAGORIES of
"MOM and POP" BUSINESSES
Home, Restaurants, Farms and Farmers Markets, General Stores, Galleries, Giftshops, Healing Arts, Pets and Emergency Care, Accommodations, Wineries, Alternative_Transportation, Buy Sell Trade, Lost and Found, Business Opportunities, Survival Retreats, Helping Homeless Vets, Acts of Compassion Contact