The HISTORIC VILLAGE of MENDOCINO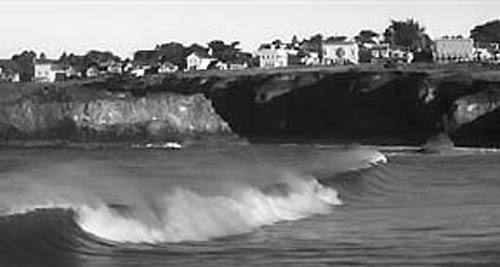 Mendocino, located 120 miles north of San Francisco, is a coastal village with a "small town personality", which was named by Spanish explorers for Cape Mendocino. The population is 800 plus and Mendocino is on the National Register of Historic Places. Just to the south is Navarro River Beach, Albion with it's fishing harbor, Little River and to the north Jughandle and Caspar. This coastal region can be reached from the southeast by State Highway 128, from the northeast by State Highway 20, the north/south by state Highway One or by traveling the remote and picturesque Comptche-Ukiah Road. Rarely does the temperature go over 89 degrees, however days can be windy and winter storms fierce and exciting.
The cleanest air and clearest light blesses visitors and the artist community who create here. Visitors can escape the summer heat and stay in a multitude of hotels, bed n breakfast inns, campgrounds and RV parks. Fancy to traditional restaurants satisfy appetites from raw-vegan to steaks and seafood. Those seeking more extravagant and romantic dinners and accommodations will not be disapointed as there are many choices.
Here is Today's Weather, Today's Tide Chart, and Today's Nightime Star Chart. Road conditions and web cams can be viewed here: Web Cam on Mendocino's Main Street The elevation of Mendocino is from 1 foot at Big River Beach to 150 feet at the historic hillside graveyard. Feel an earthquake? - You have 2 minutes to get 100 feet up (tsunami waves travel 600 mph) and the surge can reach 50 to 100 feet. The Mendocino Savings Bank parking lot is 120 feet above sea level. Here is the Tsunami Early Warning System. Enjoy the "Mom & Pop" business's linked to and in some cases reviewed below. Be alert - travel with LOVE in your heart and you will be safe.
CATAGORIES of
"MOM and POP" BUSINESSES
Home, Restaurants, Farms and Farmers Markets, General Stores, Galleries, Giftshops, Healing Arts,
Pets and Emergency Care and Accommodations, Contact