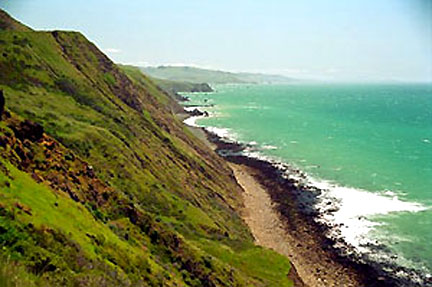 IRISH BEACH VACATION RENTALS
Luxurious Vacation Homes
P.O. Box 337, Manchester, CA 95459
Office open 8am - 5pm daily
Located 8 miles north of Point Arena
on Coast Highway 1.
Luxury homes for 2-8 people by day or week
info@irishbeach.com
707-882-2467
1-800-882-8007
How would you like to have the comforts of a luxury home overlooking a remote part of the Mendocino Coast? At Irish Beach you can have just that. Several completely furnished homes that sleep 2 to 8 people with a variety of conveniences can be rented from 2 days to a week or longer. Rates range from $150 - $400 per night (for non-holiday getaways) with every 3rd night free. There are oceanfront, panoramic ocean views, ocean views and limited ocean views. Thank God for the ocean or some of us would have a loss for words. Each home has a fireplace (firewood, linens, paper towels, toilet paper etc. is provided); some have private phones, sunken tubs, saunas, hot tubs, wet bars, satellite TV, VCR's, DVDs, dishwasher, washer/dryers, sound systems, private sun decks and fully equipped kitchens. A few are pet friendly. A cleaning fee is applicable for each house. Each $500,000 to $2,000,000 home is privately owned and managed by the Irish Beach Rental Agency.
The setting is spectacular. A forest of redwoods and coastal pines are laced with meadows and a variety of flora and fauna. Star, bird, whale and wildlife viewing is spectacular. The ocean beach ranges from an expanse of smooth sand to rocky out croppings and cliffs. There are hiking trails and pathways, 2 parks, a trout lake, and surf fishing. Irish Beach occupies a dreamlike setting on the Pacific 8 miles north of Point Arena and just a 1/2 hour drive from Sea Ranch and a 1/2 hour drive from Mendocino, There are numerous gourmet restaurants along this stretch of Hwy. 1. In nearby Point Arena are several stores, markets and gas stations. The staff at Irish Beach Rental Agency are more than happy to answer any questions you may have.